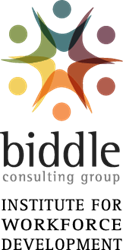 The new BCGi AAP Methodology Certification is an opportunity for HR EEO Professionals to demonstrate their knowledge of Affirmative Action Planning.
Folsom, California (PRWEB) October 31, 2013
Professional and personal development certification in Affirmative Action Plan (AAP) Methodology is now being offered by BCG Institute for Workforce Development (BCGi). Certification programs are developed around the BCGi webinars and associated exams. For the AAP Methodology track, four webinars and exams are available for those looking to get started. This track will be offered free, for a limited time, with all subsequent topics free only to BCGi Platinum members. Those interested can access the AAP Methodolgy certification process here: http://bcginstitute.site-ym.com/certifications/Default.aspx?ID=1432
BCGi will be releasing basic and advanced EEO Certifications over the course of the next year. Basic and advanced certifications can be earned in the following five topic areas: AAP Methodology, Audit Best Practices, Compensation Analysis, EEO/AA (Equal Employment Opportunity/Affirmative Action) Technical Analysis, and Test Validation. Multiple choice exams will be created using the information from BCGi's bi-monthly webinars. Upon successful completion of the presentation and corresponding exam, users will be able to store and print certificates of completion on the BCGi member portal.
Join BCGi (http://www.BCGInstitute.org) and members automatically receive an electronic subscription to EEO Insight, in addition to several other member benefits. Complimentary EEO tools available on BCGi include a 2010 Census Crosswalk (a translation or crosswalk of the 2000 to 2010 changes), future webinar training sessions, recorded training, and an adverse impact calculator, to name a few.
Interested HR professionals may register for a BCGi Platinum Membership now through January 1, 2014 at 50% off the regular premium membership dues! To receive the 50% discount enter the code: platinum50
BCGi's mission is to inform and equip human resource professionals with the HR EEO training necessary to enhance their productivity, amplify their competitive marketability, and escalate their technical capabilities in equal employment opportunity (EEO), OFCCP compliance, affirmative action planning, compensation analysis, employment law and discrimination statistics, test development, test validation, and a variety of human resource topics with a focus on EEO.
As an HRCI Approved Provider, BCGi provides online HR EEO training created and presented by experts in the industry.