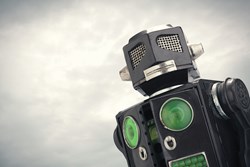 Minneapolis, MN (PRWEB) October 15, 2013
More than 500 global leaders in robotics research, design, business development, investment, law and policy will gather at St. Paul's RiverCentre on November 12-13, 2013 to share their insights into the worldwide explosion of robotics and autonomous systems at the third annual Robotics Alley Conference and Expo 2013.
Distinguished keynote speakers include:
Rodney Brooks
Rodney Brooks is founder, chief technology officer and chairman of Rethink Robotics, a 2008 Boston-based startup. From 1984 to 2010 he was on the faculty at MIT as the Panasonic Professor of Robotics, and was the director of the Computer Science and Artificial Intelligence Laboratory. Brooks was also a co-founder and chairman of iRobot, which has sold more than 10 million home robots. While at MIT, he developed the behavior-based approach to robotics that underlies the robots of iRobot and Rethink Robotics. He will speak on the topic "Man and Machine: the Future of Humanity and Robotics."
Heather Knight
Heather Knight is currently conducting her doctoral research at Carnegie Mellon's Robotics Institute and is also president of Marilyn Monrobot Labs in New York City, which creates socially intelligent robot performances and sensor-based electronic art. Her installations have been featured at the Smithsonian-Cooper Hewitt Design Museum, the Los Angeles County Museum of Art, SIGGRAPH, PopTech and the Fortezza da Basso in Florence, Italy. Her past work also includes robotics and instrumentation at NASA's Jet Propulsion Laboratory, interactive installations with Syyn Labs and sensor design at Aldebaran Robotics. She was recently named Assistant Director of Robotics at Humanity+. She will be speaking on "Robot Film Festival and Stand-Up Robot Comedy."
Lieutenant General Rick Lynch
Rick Lynch, Lieutenant General, U. S. Army (retired), Lynch is the new executive director of the University of Texas at Arlington Research Institute. He is a graduate of the U.S. Military Academy at West Point, New York. He earned his master's degree with a concentration in mechanical engineering from Massachusetts Institute of Technology. He served as the Robotics Project Officer in the Directorate of Combat Developments at the U.S. Armor School in Fort Knox, and later as the Armor Center's Chief of Force Development. In his previous position, Lt. Gen. Lynch managed all 163 Army installations around the world, a workforce of 120,000 people and an annual budget of nearly $13 billion. His keynote topic is "Robots Saving Lives and 'Adapt or Die'."
Nikos Papanikolopoulos
Nikos P. Papanikolopoulos (IEEE Fellow) received his degree in electrical and computer engineering from the National Technical University of Athens, Greece, and his masters and Ph.D. in electrical and computer engineering from Carnegie Mellon University. Currently, he is the Distinguished McKnight University Professor in the Department of Computer Science and Engineering at the University of Minnesota. He is also director of the Center for Distributed Robotics, and Security in Transportation Technology Research and Applications. His research interests include robotics, computer vision, sensors for transportation applications and control. He will be speaking on "Emerging Trends in Robotics Research Worldwide."
Michael Toscano
Michael Toscano is the president and CEO of the Association for Unmanned Vehicle Systems International (AUVSI). In this role, Toscano oversees all aspects of the 7,500-member organization and represents the unmanned systems industry before Congress, the media and other stakeholders. Prior to joining AUVSI, Toscano was the research and development program manager for nuclear security in the Office of the Deputy Assistant to the Secretary of Defense for Nuclear Matters. Toscano also served as the Executive Secretariat to the 2002 Defense Science Board on Combating Terrorism. Toscano holds Bachelor of Science degrees in both civil and environmental Engineering from the University of Rhode Island. His topic is "Emerging Trends in Robotics Research Worldwide."
About Robotics Alley
Robotics Alley™ is an initiative to spur public-private partnerships in the business, research, and development of world-leading robotics and automation systems. The leading companies, organizations, universities, and individuals working together through Robotics Alley are involved in some of the world's most innovative and promising robotics projects. Robotics Alley is owned and produced by The Event Group, a full-service event production and marketing agency based in Minneapolis.