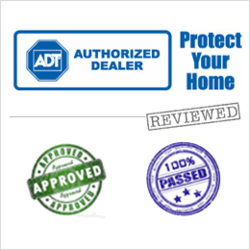 Everyone knows ADT and they've done a lot of keep up with the new competition on the market. They earn a well-deserved position on our list of recommendations.
Cleveland, OH (PRWEB) January 07, 2013
Along with their publication of the 2013 Overall Best Home Alarm System Companies, AlarmSystemReport.com has revealed today that ADT Security managed to maintain its position as one of the top rated United States home security and alarm system equipment and service providers. ADT has maintained a spot on the company's annually published list of top home alarm system companies since the list's inception.
"With well over 100 years of experience in the home security business, in one way or another, and as the oldest American electronic based home alarm system provider, it's not really that big of a surprise that ADT has managed to stay among the top ranked companies year after year," said Steve Ordona, head of public relations for AlarmSystemReport.com. "ADT Security definitely has not been resting on their laurels. The folks over there are working hard to bring innovation, especially in terms of technology, to the home alarm system industry."
This year's annual review cited ADT as performing highly on a variety of quality indicators. Areas in which ADT Security excelled included the following: customer service and satisfaction, overall reliability, diversity of alarm system and monitoring service offerings, remote monitoring options (including cellular and broadband Internet), and frequent availability of promotions.
ADT scored particularly well in the selection of equipment that it offers. Some of its most popular equipment includes wireless GE control panel, carbon monoxide detectors, SafeWatch CellGuard, outdoor siren or strobe, flood detector, and keychain remote. The company also offers a wide variety of wired and wireless motion detectors, window sensors, door sensors, and smoke and heat detectors that all communicate through the same central control panel that customers can remotely monitor.
"It's really in this relatively new area of wireless integration, monitoring, and control where ADT is making its mark, along with some of the other top home security system companies," said Ordona. "Based on both survey results and sales information, homeowners are really buying into the convenience, utility, and ease of setup of the wireless security system options like those ADT is making available."
ADT Security has not publicly released information on its exact sales figures, but several estimates suggest that a majority of its new security system sales are in the wireless equipment sector.
Additional information about the home alarm system industry, as well as reviews and recommendations from our independent industry experts, are available at AlarmSystemReport.com. The freely available website (no registration required) also contains libraries of Vivint Home Security, LifeShield Home Security, ADT Security, Protect America, and FrontPoint Security reviews.
About AlarmSystemReport.com
The home security and alarm system industry experts at AlarmSystemReport.com work hard to provide a freely available public resources where homeowners can go to read the latest consumer research and reviews on the best home alarm systems and service providers. AlarmSystemReport.com's alarm system reviews provide consumers with detailed information about each security provider's reliability, customer service quality, affordability, equipment and technology specifications, and comparative performance. AlarmSystemReport.com publishes both annual comparative rankings and ongoing reviews of all the top home alarm system companies.
###