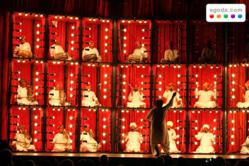 In just three short years, the George Town Festival has emerged as one of Asia's most exciting and cutting edge arts festivals, with exciting displays of painting, dance, film and music, among others.
Singapore (PRWEB) April 18, 2013
Agoda.com, Asia's leading hotel booking site and part of Nasdaq-listed Priceline Group (Nasdaq:PCLN), is getting in a creative mood in preparation for the upcoming George Town Festival, the most colorful and exuberant celebration of art, music, theater, dance, opera and film in Malaysia. This year the festival will be held from 7 June – 7 July, and Agoda.com customers who book hotels on a special festival webpage will enjoy 5% off of the already low prices.
The festival, commonly just called the GTF, began in 2010 as a platform to promote the rich artistic and cultural heritage of George Town, the capital of the state of Penang. Listed as a UNESCO World Heritage Site in 2008 for its "unique architectural and cultural townscape without parallel anywhere in East and Southeast Asia," the city is a product of centuries of maritime trading, where cultures, customs, religions and artistic styles mixed and thrived.
Many of the merchants that passed through on their expeditions across oceans, mountains and deserts ended up staying, and those that didn't left a deep impression on the locals that remains to this day, something that is quite evident in the architecture, language and food that gives the city its unique identity.
Continuing this cultural melting pot, the George Town Festival can be thought of as a physical manifestation of centuries of artistic expression. With a perfect balance of displays by local and international artists, the festival showcases dynamic performances from a wide variety of disciplines.
This year, highlights include a dance/music performance by Shaolin monks presented by Flemish/Moroccan choreographer Sidi Larbi Cherkaoui, a performance by the renowned Italian chamber music group I Musici, and a spirited dance show in the streets and alleys of the city that explores the energy and playfulness of George Town, featuring dancers from Singapore's Nanyang Academy of Fine arts and Penang's own Ombak Dance Collective.
In addition, there will be professional kite displays, cultural and heritage celebrations from around the region, and workshops where the public can learn some of the skills on display by professionals, including design, photography, embroidery, film and even kite-making!
In only three years, the GTF has managed to carve out a reputation for cutting edge artistic displays by world-class performers in a historic, culturally important setting. What more could one ask for from an arts festival? Check out the Agoda.com/GTF webpage at http://www.agoda.com.my/gtf2013 for fantastic hotel deals, and have a great time at the George Town Festival in Penang!
To connect with Agoda.com for special deals on hotels worldwide, please visit our website at http://www.agoda.com. Like us on Facebook at http://www.facebook.com/agoda or follow us on Google+ at http://plus.google.com/+agoda