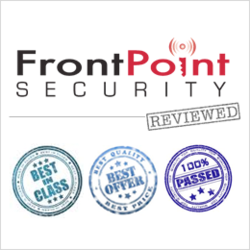 FrontPoint Security is a best in class company for consumer home alarm systems. We'd recommend them to any consumer looking to protect their home.
Seattle, WA (PRWEB) December 04, 2012
The home alarm and security system experts at AlarmSystemReport.com have announced a preview of their 2013 top home alarm system company rankings. This year's rankings have been researched, developed, written, and published over a several month period of time that included hundreds of hours of interviewing customers, analyzing survey results and market information, and fact checking equipment and service information provided by home alarm companies.
"It might seem obvious, but several of our competitors simply find the websites of alarm systems companies—or even just call them—and take all of the information they provide at face value," said Steven Ordona, head of publication relations for AlarmSystemReport.com.
"Even if the companies don't provide purposefully misleading information, much of it is still out of date or otherwise inaccurate. And frankly, the home security and alarm system industry doesn't have a sterling reputation for fact-based marketing. Thankfully, there are a number of gems that we can unreservedly recommend to consumers, and that's what this year's top home alarm system company rankings are all about."
At the top of this year's list of leading alarm system providers is FrontPoint Security, a relatively new entrant to the home security field that has nevertheless established a strong reputation for top quality equipment, industry leading warranties, reliable customer service, and a sterling Better Business Bureau rating (a perfect A). Founded in 2007, FrontPoint Security provide a DIY alarm system with reasonably priced equipment, easy wireless setup, cellular monitoring options, and a variety of home automation choices.
"We've been amazed at what FrontPoint Security has managed to accomplish in its five year history. It's literally a company that went from nothing to one of the most trusted, competent names in the entire national home security and alarm system industry. This is a company that understands its customers and their needs, and who wants nothing more than to meet them in every possible way. They really get that homeowners are putting the safety of their homes and families in their hands."
FrontPoint Security isn't the only company that ranked high on AlarmSystemReport.com's 2013 list of overall best alarm system companies. In second and third place, respectively, were Protect America and ADT. Other highly ranked companies (with at minimum rating of four out of five stars) included LifeShield Security and Vivint. All of these companies provide wireless equipment, at least decent customer service, and a number of cellular, Internet, and traditional phone line based security monitoring services.
For more information about FrontPoint Security reviews, security system coupons, expert recommendations, and other industry news, readers should visit AlarmSystemReport.com.
About AlarmSystemReport.com
As a leading expert in the home alarm and security system sector, AlarmSystemReport.com employs leading independent home security experts and writers to investigate, analyze, and review the leading home alarm system companies. AlarmSystemReport.com provides non-biased, accurate, and up to date information on alarm system equipment and service providers. The company also publishes both annual rankings and ongoing home alarm system reviews. None of the company's analysts and review writers maintain any financial relations with any of the home security or alarm system companies about which AlarmSystemReport.com providers information.