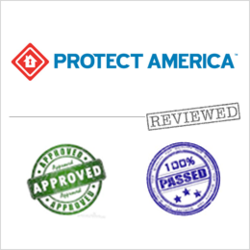 Protect America has really gone out of its way to integrate with all of the latest and greatest wireless GE home security products.
Reston, VA (PRWEB) January 15, 2013
AlarmSystemReport.com, a leading source of consumer reviews and expert recommendations in the alarm system and home security industry, announced that it has added Protect America to its list of top alarm system equipment and service providers. This is Protect America's second year in a row making AlarmSystemReport.com's list of top three best overall alarm system companies.
Protect America joins FrontPoint Security and ADT Security in this year's top home alarm and security providers, with honorable mention going to LifeShield Home Security and Vivint Home Security. All five of these security companies received at least four stars on AlarmSystemReport.com's five point rating system. The company's scale includes sub-ratings for the service provider's affordability, equipment, customer service quality, up front cost, and overall value. Protect America came in with an overall rating of 4.5 stars. The only company that managed to net a higher score than Protect America was FrontPoint Security.
"We're excited about the things Protect America and their crew are doing with their equipment and service offerings. They're really taking things to the next level," said Steve Ordona, AlarmSystemReport.com's public reations head. "The established security and alarm companies are seeing a lot of competition from fledging, high tech newcomers to the market. But the truth is, they are managing to adapt just as fast as the so called innovators. If anything, they're more on top of the latest technology than anyone else. Protect America is one of the those bedrock companies in the market."
Protect America reviews on the AlarmSystemReport.com website indicate that the company provides several different alarm system monitoring options. They include traditional phone line monitoring, broadband Internet monitoring that's accessible through a standard Web browser, and cellular monitoring with smart phone apps for iOS and Android phones.
Protect America was also cited by reviewers for its extremely low up front equipment costs, diverse set of packages that range from four to sixteen different sensors, and all of the leading edge GE equipment that the company offers. Some of the newest equipment options Protect America gives to its customers include glass break detectors, floodwater sensors, carbon monoxide meters, panic pendants, touch screen keypads, and wireless touch pads.
"Protect America has really gone out of its way to integrate with all of the latest and greatest wireless GE home security products," said Ordona. "In fact, the company is arguably one of the top contenders in the wireless home security and automation fields as well. They really offer their customers the real deal."
About AlarmSystemReport.com
AlarmSystemReport.com, a top expert in the home security and alarm system industry, specializes in sharing with consumers the most dependable and relevant information possible on all of the best alarm systems and home security system providers in the home security market. The company's top industry experts and reviewers are engafed in ongoing research and analysis to provide consumers with the facts and evaluations they need to make the most informed decisions possible about how to keep their homes and families safe. SecuritySystemReviews.com is independent of any specific home security company and makes sure that its writers offer only fact based, unbiased alarm system reviews.