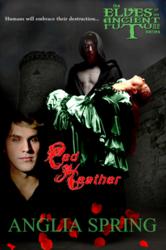 Elves turned out to be much more interesting than vampires, and equally, if not more, terrifying.
Chicago, IL (PRWEB) June 07, 2013
Truer to the elves described in Nordic myths, the depiction of elves in Anglia Spring's new novel Red Heather: The Elves of an Ancient Future is more like reading a sinister account of the terrible deeds done by wizards or vampires than the elves most relate to from the likes of J.R.R. Tolkien or Terry Brooks. http://angliaspring.com/
Red Heather: The Elves of an Ancient Future tells the story of a future Earth that has suffered the Apocalypse, or the Norse equivalent, Ragnarok. It is a tale of the domination of humanity by tall, handsome dark elves with death grey skin, among who, one wishes to be a god. No matter what the consequences are to himself, his loved ones, or the humans whom he rules over, this dark elf king will stop at nothing until he is divine.
"It's a book for everyone—everyone of an adult age," laughs bestselling novelist Anglia Spring, who has previously written under different pseudonyms, when asked about her work. "I tried to write [my book] in a way that would appeal to both men and women. When I started writing this story, all of my characters were humans, so in that sense, [the elves] are probably more relatable, humanly cultured, and less emotionally reserved than elves that have been portrayed in other works of fantasy fiction."
Spring was asked how she compares her work to other authors who write about elves. "Even though I just did, I don't like to compare my work to that of others, but somehow, it seems unavoidable." she says. "If I had to compare, I would say that my elves are probably more dangerous, conniving, depressed, psychopathic, sexually inclined, scientifically and culturally advanced, and I think, more badass, certainly, in every sense of the word."
When asked if she's ever read the Lord of the Rings, Spring replies, "I have read about three chapters of it, and I didn't get to the part with the elves. I have seen the movies, and they're great. I'm a Jane Austen fan, and I have read A Song of Ice and Fire by George R. R. Martin, and I think they're brilliant books."
On why she writes about elves: "My interest in elves developed during writing this book, so the process was organic. I did not go into this with the intent of writing about elves. I made the decision to turn many of my characters into elves when I noticed that my story was basically a fantasy with no fantasy characters in it. I fell in love with elves during the writing process. There was a short period of time when I was thinking that I should jump on the vampire bandwagon, but I just couldn't do it. I wanted to write something fresh and extraordinary, and the market is flooded with vampire stories as it is. Elves turned out to be much more interesting than vampires, and equally, if not more, terrifying. [Elves and vampires] are both sort of part of that aristocratic faction when it comes to supernatural beings, and I love writing about aristocrats, especially when they're really good looking."
Anglia Spring is a bestselling author of four books, and has two more scheduled for release later this year, including the second book of The Elves of an Ancient Future. http://www.angliaspring.com Interested readers can find Anglia Spring's work at BarnesandNoble.com, Amazon.com and Kobo.com