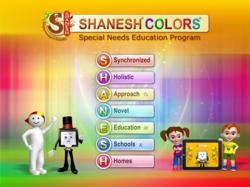 What we want to see is a structured way of utilizing technology in the world of special needs education. Currently, bulk of the hard work educators are putting in is not as effective as it can be if used in a synchronized and consistent manner...
(PRWEB) January 11, 2013
The number of sessions played, which grew steadily until November, experienced a remarkably steep spike the following month, registering 30,991 counts. With 30,453 sessions, the Christmas week alone broke all previous records in terms of most downloads in a short span of seven days.
"One of the major factors that took the numbers beyond the astonishing 100,000 mark was the gradual influx of a bevy of new activities for children with autism spectrum disorders (ASD)," hinted Nish Parikh, CEO of WebTeam Corporation. "We started last year with very little resources and manpower, but gradually and steadily worked around the limitations and were able to regularly launch new apps for various skills that were based on all the key components of applied behavior analysis (ABA)," Parikh said.
"As we neared the end of the year, we had no idea exactly how explosive the increase in activities played was going to be. Since the release of our first few apps at the beginning of the year, we had only figured in about a ten percent increase per month by the way it was looking. We would've never thought we'd reach over 100,000 plays in one month, up from 70,000 in November," said KJ Sharma, senior advisor to WebTeam Corporation.
The data also revealed a considerable increase in the number of players as the year went by. At the end of January, the number of players to participate in the activities was 2,617 – a figure that grew exponentially over the next 11 months, and reached up to 18,816 in the month of December 2012.
The company's CEO, while confident of a successful 2012, said WebTeam Corp's ultimate goal is to change the way the intervention is being delivered at schools and homes. "What we want to see is a structured way of utilizing technology in the world of special needs education. Currently, a bulk of the hard work educators are putting in is not as effective as it can be if used in a synchronized and consistent manner between homes and schools by teachers and parents. Quite often you will find what is being taught at home is not necessarily followed in the classroom and vice versa, which doesn't allow autistic children to learn the way they know and feel comfortable with. We want to change all this by introducing a strategic and methodical way of delivering intervention using our patent pending technology and centralized database for extensive data collection. Tracking and monitoring the progress made by the individual getting intervention is a key activity of ABA based intervention. Our technology not only delivers the intervention but also tracks progress made by the individual based on the parameters set by the experts," Parikh said.
"In the month of December, we had delivered 15,000 minutes of played session daily globally, which is equivalent to the collective effort put in by about 32 full-time teachers teaching daily. This goes to show that our integrated teaching model with classroom activities and data collection made by our apps are welcomed by both parents and teachers and perhaps preferred over other ad-hoc apps in the classroom," Parikh added.
The iLearnNEarn Series of Apps for autism is developed on the holistic concept of providing extended evidence-based intervention in schools and homes. By integrating assistive mobile technology with expert guidance and advice, WebTeam Corporation has given iOS and Android users from the autism community a great opportunity to explore and learn with a world of vivid colors and fun-filled activities.
About WebTeam Corporation
WebTeam Corporation (WTC) is a technology-driven company based in Somerset, NJ, working in areas of special education, staff augmentation and customized software development. Founded in 2006, WTC specializes in leveraging the potential of touchscreen technology to improve the lives of children with autism. SHANESH Colors – the company's patent pending technology – has been a buzz on the market of late, offering a cost-efficient supplemental intervention option to parents, teachers and professionals involved with the autism community worldwide.
WebTeam Corporation has been working closely with top industry experts and service providers, and is constantly on the lookout for breakthrough autism research. The goal of the company is to develop an affordable, holistic, synchronized and consistent education model capable of tapping the latest mobile technology to make the overall experience of learning and development stimulating, enjoyable and effective for special children.
Partnership Opportunities
WebTeam Corporation has partnered with various autism community partners to develop unique apps utilizing their subject matter expertise and is always looking to work with more experts. For partnership and collaboration opportunities, please contact nish(at)webteamcorp(dot)com or tim(at)webteamcorp(dot)com.
What's New at WebTeam Corporation
WebTeam Corporation is in the middle of launching a bundle of new apps to serve the autism community in the most holistic and efficient manner possible. Some of the top recent apps are –
Body Atlas, Make Sentences, Minus Drills, Divide N Play, Plus More, iLearnNEarn – Autism Series