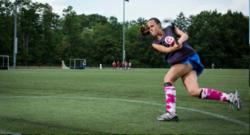 The more dedicated and passionate players that come to campus, the better!
San Rafael, CA (PRWEB) February 27, 2013
Nike Field Hockey Camps strive to provide young athletes with the best coaches and locations to choose from. This year, Nike Camps announces another outstanding camp location at UC Berkeley. Cal is well known for their superior athletics and accomplished coaches, a perfect combination for a phenomenal field hockey camp experience.
The Shellie Onstead Field Hockey Camp at UC Berkeley is designed specifically for players ages 10 to 18 with a focus on basic and advanced skills, position play, field hockey fundamentals and team strategy. Cal's coaching staff and current players help athletes develop basic skills as well as teach the latest skills and tactics to allow each player to compete at the highest level.
Shellie Onstead, shares her enthusiasm on camp this summer, "This is the first year of collaboration with US Sports Camps and I look forward providing the same high quality camp in partnership with a professional group. The more dedicated and passionate players that come to campus, the better!"
At Nike Field Hockey Camps, the goal is to stimulate a love for the game in young athletes by showing them how to accelerate their own progress and success. By associating with Nike, the title sponsor, and working with the country's best coaches, Nike Field Hockey Camps offer an unforgettable growth experience—for all ages and skill levels.
About US Sports Camps
US Sports Camps (USSC), headquartered in San Rafael, California, is America's largest sports camp network and the licensed operator of NIKE Sports Camps. The company has offered summer camps since 1975 with the same mission that defines it today: to shape a lifelong enjoyment of athletics through high quality sports education and skill enhancement.
Players, coaches, parents and others interested in the 2013 Nike Field Hockey Camps can visit ussportscamps.com/fieldhockey/ or call 1-800-645-3226