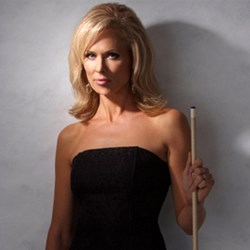 Leisure Fitness customers will learn a lot from Ewa about simple ways to improve their game and even trick shots to impress their friends!
Washington, DC (PRWEB) October 11, 2013
Leisure Fitness invites Washington, DC residents to a special day celebrating the introduction of Brunswick Billiards to the Leisure Fitness Tysons Corner Store product offering on November 2nd at its location in the Tysons Corner shopping center at 8133 Watson Street McLean, VA 22102. The billiards section of the showroom will include tables set to play pool, foosball, air hockey, table tennis and will also be featuring an appearance by Ewa Laurance – known as the Striking Viking, this event will include; pictures with Ewa, autograph signings, trick shot demonstrations, pool school, autographed cue stick drawing for a lucky winner, and some lucky participants will get to play Ewa in a game.
"We are excited to welcome Ewa, one of the top billiards players in the world, to our store as part of our grand opening of the Brunswick Billiards section of Leisure Fitness," said Paul Bastianelli, Chief Executive Officer, Leisure Fitness. "Not only is she amazing to watch, but she's an incredible teacher. Our customers will learn a lot from Ewa about simple ways to improve their game and even trick shots to impress their friends."
During her visit, Laurance will introduce customers to games and trick shots for all skill levels – from the billiards beginner to the family pro – as featured on Brunswick's Game On website. Brunswick's Game On program is designed for families looking for a way to unplug from their devices and really reconnect with one another through games like billiards.
"Billiards is such a great game for families because almost anyone – no matter how old or young – can learn it and play," said Brent Hutton, president of Brunswick Billiards. "We are bombarded by electronic devices every single day, so we thought it was the perfect time to share a resource that encourages more genuine face time and interaction."
The Leisure Fitness in Tysons Corner will now carry a full selection of Brunswick Billiards including; pool tables, shuffleboard, foosball, air hockey, table tennis, gaming furniture, and billiards accessories.
About Leisure Fitness
Leisure Fitness is a retail distributor of the top brands of fitness equipment and billiards and gaming. Leisure Fitness provides high-quality equipment for your home, office, or corporate setting. In addition to the newly announced billiard pool tables and gaming products Leisure Fitness product selection includes treadmills, elliptical cross trainers, home gyms, rowing machines, free weights, fitness accessories. Leisure Fitness provides an educated, experienced staff of specialists who are knowledgeable about all the equipment's capabilities and performance specifications and trained to identify a customer's need and fit them with the appropriate fitness product.
For more information, contact:
Tyler Bastianelli
Leisure Fitness – Tysons Corner
8133 Watson Street
McLean, VA 22102
706-506-9200 phone
tbastianelli(at)leisurefitness(dot)com
Social Media:
Leisure Fitness - Tysons Corner - Official Facebook Page
Leisure Fitness - Official Instagram Page