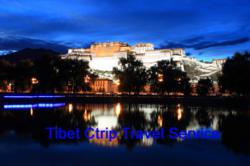 local Tibet travel agency TCTS upgrades budget tours in 2013!
(PRWEB) April 28, 2013
Tibet travel agency, TCTS (http://www.tibetctrip.com) is introducing new and improved budget tours for the 2013 travel season. With the addition of the Lhasa Culture Highlight Budget Tour to TCTS' lineup, travelers can see important Tibetan cultural and historical sites in as little as four days. TCTS organizes small groups of 2-10 people, making this tour perfect for those who want to minimize costs without sacrificing the quality of a private tour. Over this four-day Tibet tour travel groups will visit world-famous sites like Potala Palace and Jokhang Temple, then experience city life as they explore Lhasa by bike.
Day 1: Arrive In Lhasa. Traveler's native Tibetan guide will meet them at the airport or train station and then accompany them on the shuttle bus to Lhasa. After checking into their hotel, travelers are advised to rest and relax while acclimatizing to the altitude. It is best to avoid intense physical activity and drink lots of water.
Day 2: Guided Sightseeing. Today travel groups will visit Potala Palace, former home of the present and past Dalai Lamas. Parts of the palace are over a thousand years old and house cultural relics such as statues and towering stupas that contain the remains of past Dalai Lamas. Next, travelers will visit Jokhang Temple. Home to the only known image of the Shakyamuni Buddha still existing today, this is the most revered shrine among Tibetan Buddhists,
Day 3: Biking tour. Travelers start out in the morning biking through Lhasa, they will be able to see hustling and bustling streets filled with pilgrims and locals going about their daily business. Stops will be made at the Tibet Museum and Norbulinka, summer palace of the Dalai Lama. After lunch the group will bike to Sera Monastery, to see the famous debating monks, and then ride back to Barkhor Bazaar where travelers can explore its crowded alleyways and do some shopping.
Day 4: There will be free time for some last minute exploration and picture taking before heading to the airport. Travel group's native Tibetan guide will accompany them to the airport shuttle stop or train station. Interested travelers are welcome to extend their itinerary to Kathmandu or Mainland China.
Even on a budget tour of Tibet in just four days, travelers can experience daily life and see some of most important cultural and historical sites. TCTS is able to cut costs per person, without sacrificing quality, by matching small travel groups with other small travel groups. Now travelers can enjoy a comfortable and flexible tour schedule with more one on one time with their native Tibetan guide than large group tours. Summer in Tibet is right around the corner, travelers are encouraged to start planning now.
Devin Moore provided this news release above on behalf of local Tibet travel agency TCTS (tibetctrip.com). Devin is a travel writer and independent economic analyst based in Springfield, Missouri USA. His economic research is currently focused on airfare pricing. Devin Moore works to spread awareness of Tibet and its people through publishing Tibet travel information.