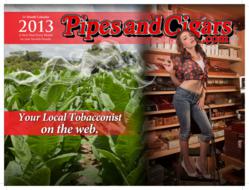 I expect that between the ladies and the cigar bargains, these calendars are going to be something that smokers really enjoy.
Albany, NY (PRWEB) January 15, 2013
PipesandCigars.com is a leading online tobacconist specializing is offering the web's widest selection of the best cigars, humidors, pipes, pipe tobacco, and all varieties of smoking accessories. The company has just announced the release of their 2nd annual Cigar Calendar, with a whole new round of featured brands and special offers for each month in 2013. The 2013 Cigar Calendar features local Albany, NY area female models advertising each month's featured cigar brand and the month-long special offer. The company is currently including the calendars with outgoing shipments, all orders containing $20 or more worth of cigars have a 2013 Cigar Calendar automatically included free of charge.
This year's calendar features a wide variety of cigars covering a range of styles from the largest and best-known brands to smaller premium boutique cigars. Featured brands include Padron cigars, Davidoff cigars, Rodrigo cigars, Paul Stulac cigars, CAO cigars, CLE cigars, AVO cigars, and many more. The featured brands were selected to highlight brands the company feels provides excellent quality and value. Each month's special offer on the featured brand is designed to give customers an even better value on purchasing these selected cigar brands all throughout their month.
"This year's calendar is a project I'm extremely proud of," stated PipesandCigars.com Marketing Director Travis Lord. "It is a 100% home-grown project. All the models are from around the Albany area, we found them using a variety of methods. There's a mix of professionals and amateurs, but they all did a great job and of course look very attractive. One of the girls is even the sister of one of our employees. We had a great team working on the hair styling, make-up, and photography to get a professional finished product. Selecting the brands and putting together the special offers was almost as much fun as selecting and photographing the models. We've got a wonderful slate of brands featured with some very attractive offers. I expect that between the ladies and the bargains, these calendars are going to be something that smokers really enjoy. I'm thrilled to be able to give these out to our loyal customers, as well as to cigar smokers who are finding our site for the first time."
Photography and design for the calendar was performed by PipesandCigars.com in-house graphic designer and photographer Josh Crystal. PipesandCigars.com Warehouse Supervisor Carly Bristol was responsible for wardrobe styling, and Marketing Director Travis Lord served as Creative Director for the project. For hair styling, the company engaged freelance stylist Jen Bunny, and for make-up they hired Yesica Orozco, a local freelance make-up artist.
In addition to the 2013 Cigar Calendar, the company has also published a 2013 Pipe Calendar, advertising featured brands of the month with special offers for pipes and pipe tobacco. The pipe calendar features more traditional backgrounds and product shots, without the models. Brands featured in the PipesandCigars.com 2013 Pipe calendar include Bjarne pipes, Peterson pipes, Dunhill pipes, Dunhill tobacco, Lane Limited tobacco, McClelland tobacco, and many more. The 2013 Pipe Calendars are also being distributed in outgoing shipments while supplies last, and people who enjoy smoking pipes are already receiving and using the calendars to get great deals on the featured brands.
People interested in learning more or receiving their own copy of the PipesandCigars.com 2013 Cigar Calendar can visit PipesandCigars.com or call the company directly at 800-494-9144.
About PipesandCigars.com: PipesandCigars.com is an industry-leading online tobacconist dedicated to bringing customers the widest selection of cigars, pipes, pipe tobacco and tobacco accessories. The company features premium cigars from brands like Ashton cigars, Padron cigars, Montecristo cigars, Macanudo cigars, CAO cigars, Arturo Fuente cigars, and many more. They are the low-cost leader in pipe tobacco on brands like GL Pease, Sam Gawith, McClelland, Captian Black, Borkum Riff and many more. They feature thousands of pipes, ranging from inexpensive Corn Cobs and Dr. Grabow pipes all the way to the premium brands like Dunhill, Peterson and other fine hand-carved pipes.