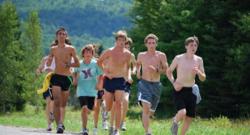 Hundreds of coaches have taken advantage of our workshop; dozens of them several times.
San Rafael, CA (PRWEB) February 07, 2013
The curriculum offers up to 15 hours of instruction from veteran, highly successful coaches on our staff. There is no tuition cost for this workshop, just the cost of board and room. It is the program's way of paying back for the lessons we've learned from mentors and veteran coaches who have helped us with our running camps over the years.
The workshop focuses on not only the design and implementation of workouts, but also the organization and administration of coaching cross country teams. It is heavy on practical information with plenty of sample handouts on all aspects of coaching.
"Hundreds of coaches have taken advantage of our workshop; dozens of them several times. Some have even gone on to become successful members of our coaching staff," says Founder and Director Coach Roy Benson. "But all of "graduates" have gone home better prepared to improve their teams' performances."
For high school runners, the SMRC and GMRC place great emphasis on teaching runners the wisdom of the hard/easy training philosophy developed by the late, great U of Oregon Coach and Nike Co-founder Bill Bowerman. To implement the Bowerman philosophy, we use Coach Benson's Effort Based Training Program to allow the camps to run the same appropriate effort while allowing each group to train at their individualized paces based on their current fitness, over-all ability and general goals. The instruction is serious and the training is right for this time of the summer.
In addition to the Coaches Workshops and High School Programs, we offer Advanced Placement Cross Country Classes and Middle School Runners Programs, covering the latest in training and racing techniques.
Smoky Mountain Cross Country Running Camp, Asheville, NC
July 7 – 12 High School runners program
July 14 - 19 Coaches Workshop; High School and Middle School program
July 21 - 26 High School runners program
Green Cross Country Mountain Running Camp, Lyndonville, VT
July 28 – August 3 Coaches Workshop; High School and Middle School program
August 4 – 10 High School runners program
August 11 – 17 High School runners program
US Sports Camps (USSC), headquartered in San Rafael, California, is America's largest sports camp network and the licensed operator of NIKE Sports Camps. The company was started in 1975 with the same mission that defines it today: to shape a lifelong enjoyment of athletics through high quality sports education and skill enhancement.
Runners, Coaches, Parents and others interested in the Nike Running Camps can visit ussportscamps.com/running/ or call 1-800-645-3226.