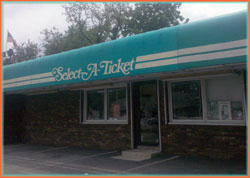 Whether you want to see country, classic rock or current pop stars, they offer something for everyone.
Riverdale, New Jersey (PRWEB) May 01, 2013
New Jersey ticket broker Select-A-Ticket is pleased to announce the availability of concert tickets for all local venues. Summertime is kicking off soon, and that means more concerts will be coming to area amphitheaters. There are many shows to choose from in the New Jersey and New York areas, particularly at the PNC Bank Arts Center and the Nikon at Jones Beach Theater.
The PNC Bank Arts Center is located in Holmdel, New Jersey, off the Garden State Parkway. It is one of the largest venues in this area of the country, with available seating for 17,000 people (7,000 inside and 10,000 on the grassy area). There are shows all summer long, currently scheduled from 5/16 thru 9/5. Among the major national acts are the following:
Brad Paisely, Chris Young, and Lee Brice -- 5/16
Pitbull and Kesha -- 5/31
Rascal Flatts and The Band Perry -- 6/2
Dave Matthews Band -- 6/6
Toby Keith and Kip Moore -- 6/21
Heart and Jason Bonham -- 7/2
Vans Warped Tour -- 7/7
Phish -- 7/10
Rockstar Energy Mayhem Festival -- 7/23
Black Sabbath -- 8/4
The Nikon at Jones Beach Theater is located in the Jones Beach State Park in Wantangah, New York. It is one of the largest outdoor venues in the country, and the largest in the New York area, capable of seating an audience of 20,000 (15,000 in the venue and 5,000 on the lawn). Shows run from 5/31 to 9/8. Acts for the 2013 season include:
Fleetwood Mac -- 6/22
Rush -- 6/22
One Direction -- 6/28 and 6/29
Phish -- 7/12
311, Cypress Hill, G Love and Special Sauce -- 7/13
Daughtry and 3 Doors Down -- 7/17
Big Time Rush and Victoria Justice -- 7/18
Lil Wayne, T.I. and Future -- 7/19
Jonas Brothers --7/20
Blake Shelton, Easton Corbin and Jana Kramer -- 7/21
Train, The Script and Gavin Degraw -- 7/23
Imagine Dragons -- 7/25
Black Crows and Tedeschi Trucks Band -- 8/10
Kelly Clarkson, Maroon 5 and Rozzi Crane -- 8/11
Matchbox Twenty and The Goo Goo Dolls -- 8/17
Rockstar Energy Uproar Festival -- 8/18
Jimmy Buffet -- 8/20 and 8/22
John Mayer and Philip Philips -- 8/28
Depeche Mode -- 9/8
"Attending summer concerts at these great venues is a tradition for local music fans. Whether you want to see country, classic rock or current pop stars, they offer something for everyone," says Mark Gibbons of Select-A-Ticket.
About SelectATicket.com
Select-A-Ticket has been in business over 34 years as an experienced, trusted and secure ticket broker.
Select-A-Ticket sells tickets to Broadway, Concerts, Sports, and Family Events and is a proud member of the National Association of Ticket Brokers (NATB).
For a complete list of available tickets, go to http://www.SelectATicket.com or call 800-735-3288 to order tickets by phone.