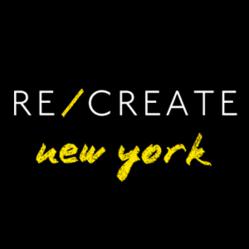 The city is a part of everything I do. It's my creative fuel, constantly changing and evolving with the times.
New York, NY (PRWEB) January 09, 2013
CREATETHE GROUP, Inc. today announced the launch of RECREATENewYork.org, a charitable platform for creators to give back. The RE/CREATE 2013 campaign will donate 100 percent of auction proceeds raised through a partnership with eBay to the Hurricane Sandy relief efforts of New York Cares.
RE/CREATE New York has brought together more than 50 prominent creators who want to give back to the city they love. Each creator has donated a personal object or experience for online auction, and a playlist for fun. There will be three consecutive auction rounds with unique items, each lasting ten days and held exclusively on eBay, the world's largest online marketplace. The first round will open for bidding on January 11, 2013.
CREATETHE GROUP built RE/CREATE New York in partnership with eBay, Spotify, and Rackspace. CREATETHE GROUP's collaborations with these partners, along with a substantial amount of donated paid media, are a testament to the dedication of leaders within the creative, fashion, and media industries to continue to raise both funds and awareness for a cause that remains urgent for so many.
Participants donating auction items include Sean Avery, Catherine Baba, Christopher Bailey, Andre Balazs, Bergdorf Goodman, Sarah Burton, Scott Campbell, Roman Coppola, Thomas Dozol, Dunhill, Karen Elson, Faile, Tom Ford, Nicola Formichetti, James Gardner, Frida Giannini, Selena Gomez, Ben Gorham, Jefferson Hack, Michelle Harper, Anne Hathaway, Ali Hewson, H.S.H. Prince Albert, Arianna Huffington, Marc Jacobs, Kim Jones, Donna Karan, David Karp, Knoll, Terence Koh, Johan Lindeberg, Natalie Massenet, Craig McDean, Leandra Medine, Julianne Moore, Kate Moss, Carolyn Murphy, Oscar PR Girl, Mazdack Rassi, Emma Roberts, Andre Saraiva, Chloe Sevigny, Skrillex, Michael Stipe, Tilda Swinton, The Fancy, The New Museum, Dita Von Teese, Alexander Wang, Kanye West, Vivienne Westwood, Aaron Young, Zana Roberts Rassi, and Evan Yurman.
"I was born in New York, so the city is a part of everything I do. It's my creative fuel, constantly changing and evolving with the times," stated Donna Karan.
"We are touched by the enthusiasm of our friends to collaborate for the benefit of a city we hold close to our hearts," commented CREATETHE GROUP CEO, James Gardner. "Building and powering global digital businesses is at our core, and we're honored to use this skill set to support New York Cares and the people who remain affected by this natural disaster."
ABOUT CREATETHE GROUP
Founded by James Gardner and Allen Kung in 2004, CREATETHE GROUP architects and powers global digital businesses through art and science. The company has 250 professionals in New York City and London, with clients including Alexander Wang, Burberry, DKNY, Dunhill, Godiva, H&M, Knoll, Marc Jacobs, NARS, NOWNESS, The New York Times and Tom Ford.
MORPHEUS
Digital marketing and strategy agency that specializes in activating cross-functional teams to achieve ROI goals and maintain brand guardianship through services including Paid Media, SEO, Social Media, Analytics, and Mobile.
AGENCY
Digital creative agency delivering emotional and innovative commerce, communication and campaign experiences that align with business goals and deeply connect brands with consumers who are online, mobile, in-store, and through social channels.
CTS
Global digital commerce development platform seamlessly integrating content, commerce, and community, and leveraging the efficiencies of a SaaS solution with the tools needed to create bespoke, omni-channel digital flagship stores.
CREATETHE STUDIO
Full service digital photography and video studio that expertly combines high quality editorial with high volume, fast moving digital commerce content. Understanding the power of rich and engaging content in order to drive conversion and ROI.
Social Contacts: @CREATETHEGROUP on Twitter, Facebook, Tumblr, LinkedIn,