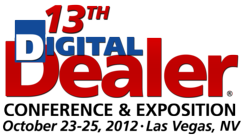 Google searches are responsible for sending two out of every three shoppers to dealership websites.
Mountain View, CA (PRWEB) September 14, 2012
Today, 90 percent of auto shoppers start their research online and use multiple devices such as computers, tablets, and smartphones to consult diverse information sources like dealer, OEM, and third-party sites across multiple platforms of search, mobile, social, and video. As the auto shopping process continues to migrate online, the role that Google and Facebook play to influence customer decisions has increased.
Google is constantly changing its algorithms to improve local search results. Over the last 12 months, Google has released three major categories of ranking factor updates that have created great opportunities for dealerships to increase their relevant content for local searchers. Google searches are responsible for sending two out of every three shoppers to dealership websites.
Facebook commands approximately one out of every five page views on the Internet today. It has become a leading resource for customers to research vehicles and dealerships, and to determine how other customers perceive dealership reputation.
As both of these Internet platforms continue to progress, in order to maximize sales opportunities, dealerships must utilize Google and Facebook to their advantage.
"Digital Dealer is designed to keep franchised dealerships on the cutting edge of new Internet and technology solutions", explains Michael Roscoe, president and CEO of Dealer Communications. "With the impact that Google and Facebook are having on dealership operations all over the country, we are excited to deliver keynote addresses that will help dealers and managers learn how to utilize new developments from these Internet giants to improve their customer engagement and increase business." 
Marianna Kerppola and Peter Leto are industry strategists on Google's Dealer Jumpstart Team, which helps car dealerships embrace digital solutions. They are responsible for providing automotive partners with scalable business solutions to further develop their regional and local advertising strategies. The team collaborates with auto groups, individual dealers, and OEMs to generate business with Google tools in an age where smartphones rule and 'everything' is on YouTube.
In their keynote address, Kerppola and Leto will explain how dealers and managers can streamline their Google marketing and advertising in order to win more customers online, what changes in auto shopping behavior means for today's most effective digital marketing strategies, and how to marry traditional and digital marketing efforts to create consistent and effective customer messaging.
In addition to a keynote address, the Google jumpstart team will lead the Google strategies Digital Dealer Learning Lab sessions. Throughout the 13th Digital Dealer Conference & Exposition, dealership attendees will have the opportunity to meet directly with Google personnel at a dedicated Digital Dealer Learning Labs table, discuss how they are currently utilizing Google, and then be given suggestions on how to improve what they are doing.
Facebook is the fastest growing online community in the world. Fifty million current and future car buyers share their 'likes' with each other every day. Keith Watts, national sales manager for Facebook, will share strategies on how to reach and influence this massive group of potential customers. In his keynote address, Watts will demonstrate best practices in Facebook marketing and illustrate how dealerships can use this resource to increase business.
Facebook strategies also will have a dedicated Digital Dealer Learning Labs table. Dealership attendees will be able to meet with automotive social media expert Kathi Kruse, founder of Kruse Control. Kruse will coach dealers and managers by learning how they are currently using Facebook and compare it to proven strategies to attract visitors, engage genuine fans and generate leads. Kruse's analysis will lead to direct suggestions on how dealers and managers can better utilize the Facebook platform in their own dealerships.
"The evolution of Google and Facebook will continue to influence how customers research, buy and service vehicles," continues Roscoe. "Digital Dealer is the only event that will not only provide direct updates from these Internet leaders on how they will approach the marketplace going forward, but also offer dealers and managers ideas and strategies to improve the way they currently utilize these influential online resources."
In addition to the largest array of Internet and technology focused educational opportunities, the 13th Digital Dealer Conference & Exposition will feature over 100 top industry products and service providers. New to Digital Dealer 13 are Innovation Hours – dedicated time to see presentations of the latest and greatest products, services, technologies and applications from leading solutions providers in the Digital Dealer Exhibit Hall. This will allow attendees to better understand emerging technologies and what solutions might work best for their dealerships.
Digital Dealer Learning Labs will provide automotive dealers and managers with the opportunity to meet with experts to get one-on-one coaching on how to improve in critical areas of dealership operations. In addition to Google and Facebook strategies, Digital Dealer Learning Labs will be offered in the subjects of Mobile Apps, e-Newsletters, Search Engine Optimization (SEO), Social Media Strategies, BDC Processes, Video Strategies, Telephone Scripts and Fixed Operations Mobile Strategies.
The Digital Dealer Peer Networking Roundtables dinner also will debut at the 13th Digital Dealer Conference & Exposition. The event will serve as an extension to Digital Dealer's legendary Peer Networking Roundtables, where dealers and managers have the unique opportunity to sit down with peers from outside their markets and discuss challenges. The PNR dinner option offers attendees another chance to connect with dealership peers from similar sized operations and utilize two days of event learning to tackle their most pressing issues.
Further, the 13th Digital Dealer Conference & Exposition will now offer in-depth case studies where attendees can drill down on an actual example of how a dealership used a specific product, service, technology or application. These detailed sessions will help dealers and managers better understand how to successfully implement solutions and processes they discovered during three days of learning and networking at Digital Dealer.
There is no better way to move a dealership operation forward than by attending the 13th Digital Dealer Conference & Exposition. To see a complete line-up of sessions, workshops and case studies, learn more about exhibitors, preview educational opportunities and to register, visit http://www.DigitalDealerConference.com.
ABOUT DEALER COMMUNICATIONS
Dealer Communications is the leading multi-media information source for franchised automotive dealers and managers. Connecting with franchised automotive dealers and managers over 10 million times per year, Dealer Communications publishes the monthly print and online editions of Dealer magazine and Digital Dealer magazine. Online weekly newsletters include Dealer; Digital Dealer; Dealer Fixed Operations; Dealer Pre-Owned; Dealer F&I, and Dealer Sales and Marketing. Dealer Communications also offers the Digital Dealer Webinar Series, with online presentations throughout the year. To see all that Dealer Communications offers, visit: http://www.dealer-communications.com
Dealer Communications also owns and operates the Digital Dealer Conference & Exposition, the premier educational conference and expo dedicated to Internet and technology solutions for automotive professionals. Digital Dealer events deliver the largest array of speakers, peer to peer networking opportunities, and exhibit hall offerings – all carefully designed to impart cutting edge business strategies. With an audience of the industry's most progressive dealers and managers and the most innovative conference format, Digital Dealer provides the ultimate learning and networking environment.
The 13th Digital Dealer Conference and Exposition will be held October 23-25, at The Mirage in Las Vegas, NV. There will be new Digital Dealer Learning Labs, Digital Dealer Innovation Hours, a new Digital Dealer Peer Networking Roundtables dinner, more than 100 workshops, over 100 specialized technology solutions providers, and many more exciting new benefits. For more information, visit: http://www.DigitalDealerConference.com.