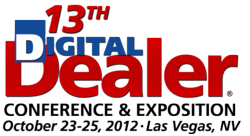 Las Vegas, NV (PRWEB) October 13, 2012
The Internet has evolved from a static place to a community where everyone has a voice.
There are multiple channels where those voices live: forums, social networks, blogs, reputation sites, etc. Which ones are most important to the dealership? How do dealers and managers make sure to engage consumers in these channels? What are realistic expectations for their ROI? How does social affect lead generation, brand engagement and problem resolution for the dealership? Where are the user traffic points that dealers and managers want to control? Learn which social channels are most important to the dealership and why. Michael Sos is sharing his expertise with dealers and managers.
What will dealers and managers learn and what action items will they take back to the dealership?
1. Learn about the types of consumer engagement that are most effective today.
2. Learn how the dealership's expanded web presence influences dealership traffic.
3. Learn how SEO is evolving into the new social soft sell.
4. Learn how to develop the dealership's own soft sell social strategy.
Michael Sos is the product manager for Interactive Media at Dominion Dealer Solutions. He has 15 years of experience working in online marketing and more than 10 years working specifically in automotive. Sos has worked for IBM Interactive Media, as well as several smaller boutique Internet agencies before joining Dominion. As director of product development at Carloan.com, he helped design, build and launch products in third-party lead generation, online lead management, direct mail, automated e-mail follow-up and affiliate marketing. His role over the last two years has been to design innovative solutions and strategies for car dealers to manage their reputation. The tools he has helped design are now used across the country in not only car dealerships but also in hotels and other small businesses.
Michael Sos will be speaking to dealers and managers on how to manage the dealership's
expanded presence online, at the 13th Digital Dealer® Conference & Exposition, October
23-25, at The Mirage in Las Vegas, NV. For more information about Michael Sos and other speakers, visit: http://www.DigitalDealerConference.com.
ABOUT DEALER COMMUNICATIONS
Dealer Communications is the leading multi-media information source for franchised automotive dealers and managers. Connecting with franchised automotive dealers and managers over ten million times per year, Dealer Communications publishes the monthly print and online editions of Dealer magazine and Digital Dealer magazine. Online weekly newsletters include Dealer; Digital Dealer; Dealer Fixed Operations; Dealer Pre-Owned; Dealer F&I, and Dealer Sales and Marketing. Dealer Communications also offers the Digital Dealer Webinar Series, with online presentations throughout the year. To see all that Dealer Communications offers, visit: http://www.dealer-communications.com.
Dealer Communications also owns and operates the Digital Dealer Conference & Exposition, the premier educational conference and expo dedicated to Internet and technology solutions for automotive professionals. Digital Dealer events deliver the largest array of speakers, peer to peer opportunities, and exhibit hall offerings – all carefully designed to impart cutting edge business strategies. With an audience of the industry's most progressive dealers and managers and the most innovative conference format, Digital Dealer provides the ultimate learning and networking environment.
The 13th Digital Dealer Conference and Exposition will be held October 23-25, at The Mirage in Las Vegas, NV. There will be new Digital Dealer Learning Labs, Digital Dealer Innovation Hours, a new Digital Dealer Peer Networking Roundtables dinner, more than 100 workshops, over 100 specialized technology solutions providers, and many more exciting new benefits. For more information, visit: http://www.DigitalDealerConference.com.