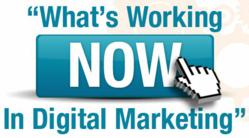 The 2013 digital marketing conference will be unlike any event that's come before it.
Austin, TX (PRWEB) November 14, 2012
The 2013 Digital Marketing Conference being held in San Francisco on January 18-20 is not a typical event, according to a recent DigitalMarketer.com article. The 2013 Traffic and Conversion Summit, hosted by Digital Marketer and a group of sponsors and partners, will change the common definition of a 'conference' and turn it into the can't-miss event of the year, the article said.
The online piece said that the Traffic and Conversion Summit is worth it because of what it will provide a marketer's view of their business, but also because of what the event is not.
The conference is not just a collection of content that could be learned on any website, and it is not a glorified pitch to sell an expensive product. Attendees go to the Traffic and Conversion Summit to learn, and the article said the idea-swapping aspect is the greatest feature of the weekend. Anyone who has attended a Digital Marketer-led event in previous years will attest that they are unlike anything they've ever experienced, said the DigitalMarketer.com piece.
The event isn't boring lectures or even a lineup of guest speakers to pump participants full of motivation. Instead, the article said it is geared towards group-oriented workshop sessions led by Digital Marketer and their team of actual working professionals. They only want to talk about digital marketing technology that works now, not about theory or 'Marketing 101' basics.
The article added that the 2013 Traffic and Conversion Summit is not for coddling or motivating, it's for practical, applicable tactics and strategies that work in today's most effective marketing techniques. It's also not a relaxing vacation, said the article. Digital Marketer expects people to come prepared with prerequisite materials and be ready to put forth the effort successful marketing calls for.
There will be no talking heads, no marketing history lessons, and no more than 2,000 seats reserved at the live digital marketing event. The article said that the attending marketers, bloggers, and entrepreneurs will consider themselves lucky to be a part of the 2013 Traffic and Conversion Summit.
Digital Marketer releases informational and educational materials to help businesses and entrepreneurs gain insight and information on the trends, data, and strategies that can take them to the top of their industry. Through their RAW Training courses, strategic plans, blogs, newsletters, site reviews, and Special Reports, Digital Marketer supercharges every single marketing campaign it touches. For more information, visit DigitalMarketer.com.
Those who make it to the event should be ready for a brand new idea of what a gathering of successful marketers can be. The article said the Traffic and Conversion Summit is likely the best investment a marketer could make in their business plan all year, and that the 2013 digital marketing conference will be unlike any event that's come before it.