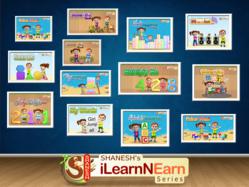 The COLORS Program has been great for the students. I see them focusing for a much longer period of time, which is great, so it allows me to teach something to a whole group and then I can take a particular student and work with him individually
Somerset, New Jersey (PRWEB) February 27, 2013
Last week, WebTeam CEO Nish Parikh visited ECLC at Ho-Ho-Kus, New Jersey, where he met teachers and administrative staff, who gave their views on the COLORS Program and the iLearnNEarn series of apps for autism.
In December 2010, the Somerset-based technology firm started a pilot project using the kiosk-based COLORS Program designed to deliver evidence-based, supplemental autism intervention. The project involved ten students from ECLC, along with their educators. It was a major success among the target group, with a majority of the participants ramping up a high volume of session counts at the kiosk. More special needs students were enrolled later on for touchscreen-based intervention using the iLearnNEarn series of apps for autism.
Touting the COLORS Program as 'consistent' and providing 'immediate reinforcement', ECLC classroom teacher Russ Fay said, "The COLORS Program has been great for the students. I see them focusing for a much longer period of time, which is great, so it allows me to teach something to a whole group and then I can take a particular student and work with him individually."
The availability of WTC's autism apps on Android devices and the iPad has been particularly helpful in extending special education from the classroom to homes, Fay noted, saying that all his students have iPads at home, which allows their parents to teach the same lessons they are being taught in the classroom.
"I sat at my laptop (at home) and made changes depending on what the children had learned, what they had been exposed to that week and what I was thinking that was upcoming in my lesson plans, I was able to sort of tweak the programs that they were going to be using, and I liked that," said classroom teacher Joan Hannes.
Children with autism need reinforcements to master a particular skill, which is why it is essential not just to repeat the lessons, but also to do it in different settings. Ms Hannes spoke about the benefits of the supplemental nature of WTC's mobile apps, saying, "After I finished an activity, I can then put a student at the table with their iPad and reinforce the lesson that I just taught."
Routines and patterns form an integral part of living and learning for children with autism. Instructional Paraprofessional Julia Turk said her students were "very engaged and very positive… they loved to get on" with the COLORS Program because they quickly "got very used to the patterns of the program."
Ellen Chu, an autism advocate who works with Johnson & Johnson, emphasized the humane aspects of autism intervention and said how WebTeam Corporation is working closely with subject matter experts, teachers and parents to make sure technology doesn't overindulge young children on the spectrum.
About ECLC of New Jersey
ECLC of New Jersey has a special connection with innovation and technology. As a dedicated provider of education and employment services to individuals with special needs, the non-profit organization proudly serves about 700 adults and children facing various learning challenges.
About WebTeam Corporation
Based in Somerset, New Jersey, WebTeam Corporation (WTC) has been working closely with leading industry experts, teachers and professionals to bring about a positive change in the lives of individuals with autism spectrum disorders. The technology-driven company has been developing apps for autism and other special education needs since 2006. Shanesh COLORS – WTC's patent-pending technology – has been a buzz on the market of late, offering an innovative special education model to parents, teachers, therapists and professionals involved with the autism community worldwide.