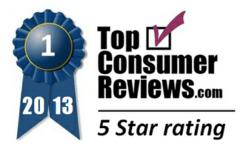 The options for exercise equipment can be overwhelming, but many consumers choose an elliptical machine for a great, low-impact, full body workout.
Los Angeles, CA (PRWEB) May 09, 2013
TopConsumerReviews.com has finalized their review of the best elliptical machines for 2013. TopConsumerReviews.com provides independent reviews for thousands of products including elliptical machines in order to help consumers make well informed decisions.
"For consumers looking for a low impact, effective and fun workout at home, elliptical machines are a great option," said Brian Dolezal, of TopConsumerReviews.com. "Each year we review and rank the top elliptical machines to help consumers find the best quality products for the best value. The ultimate decision is up to the customer, but we hope our research and independent reviews will help them feel confident in their elliptical machine purchase."
The options for exercise equipment can be overwhelming, but many consumers choose an elliptical machine for a great, low-impact, full body workout. Choosing the right elliptical machine that is both comfortable and designed to last can be a challenge. TopConsumerReviews.com has completed much of the leg work and has identified the top six elliptical machine companies.
Yowza elliptical machines have become very popular in the fitness world due to their exceptional quality and affordable price tags. These machines incorporate features that are in demand and come with a strong return policy and warranty.
Sole Fitness elliptical machines are built to last. You can expect a smooth ride, durable components and a quiet machine that ideal for a great workout at home.
Smooth Fitness provides a durable elliptical machine for a fair price. This company excels at providing a comfortable, sturdy machine that is adjustable to provide the best fit.
LifeCORE delivers a small selection of treadmills that appeal to both the budget conscientious and bigger wallets that demand comfort. Both models provide a solid machine and a strong value.
Schwinn uses magnetic resistance in the stride motion design of their elliptical machines. Affordably priced, they offer a small selection of quality built machines for home gyms.
Proform makes a wide range of machines that are budget friendly, yet provide many nice features typically found on the more expensive models. These are sturdy machines that won't wobble when used.
To find out more about elliptical machines, including reviews and comparison rankings, please visit the Elliptical Machines category of TopConsumerReviews.com at http://www.topconsumerreviews.com/elliptical-machines/
About TopConsumerReviews.com
TopConsumerReviews.com, LLC is a leading provider of independent reviews and rankings for thousands of consumer products and services. They offer the latest on Elliptical Machines including information, education, and ratings for the best elliptical machines available today.