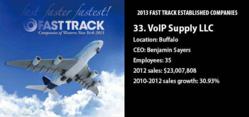 "I am extremely proud of the team at VoIP Supply and want to thank each and every one of them for their belief in what we do, why we do it and for delivering excellence every day." - Ben Sayers CEO of VoIP Supply
Buffalo, NY (PRWEB) June 22, 2013
VoIP Supply was recently named one of Western New York's (WNY) fastest growing companies in 2013.
Buffalo Business First newspaper held their annual Fast Track Companies award reception on June 19, 2013 where the rankings of privately held area companies were revealed.
VoIP Supply, with 30% sales revenue growth from 2010 to 2012, is ranked 33rd out of 65 companies.
VoIP Supply's CEO, Ben Sayers, is thrilled that his company not only made the list but was able to do so as a Certified B Corporation.
VoIP Supply is a sustainable business, conscious of its surrounding community, with the mission to "Do Well, Do Good, Suck Less," Sayers explains.
"Focusing on these six words, we have climbed back on the list of fast growth companies in our region as well as focus on giving back to our local community and environment," said Sayers.
"It is our hope that our actions will inspire and challenge other businesses in the area to step up and deliver in kind, demonstrating clearly that a company can accelerate and grow even when the focus is not solely on revenue or profits."
Sayers adds that he is "extremely proud of the team at VoIP Supply and want to thank each and every one of them for their belief in what we do, why we do it and for delivering excellence every day."
For more information about VoIP Supply, call toll free 800-398-8647 or, visit http://www.voipsupply.com.
About VoIP Supply
We are a place of uncovering, cultivating and developing leaders. A world class place to work with big goals, a clear vision, defined purpose and a dedicated team of passionate business professionals. We love what we do and do it better than any of our competition.
Since 2002, VoIP Supply has been the leading supplier of VoIP equipment and complete VoIP solutions in North America. We are known in the industry as responsive and knowledgeable VoIP product experts.
With everything you need for VoIP, VoIP Supply has grown rapidly throughout the years. VoIP Supply is a three-time Inc. 500/5000 honoree, listed by Business First as one of WNY's Most Admired Companies, as well as one of Western New York's Best Places to Work for many consecutive years, including 2012. VoIP Supply is also the first and only Certified B Corporation in Western New York.