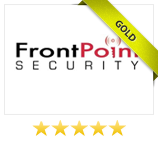 FrontPoint Security still continues to impress out experts with a perfect mix of technology, pricing, and customer service!
Los Angeles, CA (PRWEB) February 25, 2013
The home security system market experts at Security System Reviews announced recently that they have completed their annual review and ranking process of all of the nation's best home security companies. The annual process, which has become a bellwether for the health and quality of the home security sector, results in a set of overall best security system rankings, as well as rankings in the best wireless, cellular, DIY and home automation systems.
This year's process saw FrontPoint Security at the top of the rankings. In addition to overall best security system, FrontPoint Security ranked first place in best wireless system, best DIY system, and best cellular monitoring system. The only company that managed to beat out FrontPoint in any of the major categories was Vivint, which won in the best home automation system subcategory. In the overall best security system company rankings, FrontPoint was followed by Protect America (in a close second) and ADT Security (one of the oldest home security and alarm system monitoring service providers in America).
"I can't say I was surprised, but FrontPoint Security almost made it a clean sweep in this year's rankings. Ever since we've started our annual review process, FrontPoint has always scored remarkably well, but their performance this year is really unprecedented," said Tim Eveler, chief public relations officer at Security System Reviews. "What we have heard from the company's customers is that they are really good guys. That they are a local, American company that understands the needs and expectations of homeowners. That they provide quality customer service and technical support. That they are always looking out for their customers and understand the trust that has been placed in them."
In FrontPoint Security's review, the company scored well in the wireless equipment, remote access smart phone apps, customer service, and environmental monitoring categories. It also scored well for its reliability, affordability, and total value.
For more information on leading security system companies like FrontPoint Security—including ADT, Vivint, LifeShield Home Security, and Protect America—homeowners should check out the security system reviews, recommendations, and instant quote features available for free—no registration required—at securitysystemreviews.com.
About SecuritySystemReviews.com
Security System Reviews, one of the nation's leading home security system review and consumer advisory publishers in the home security sector, hosts and maintains a popular, high traffic web site with high quality, professionally written reviews, recommendations, and other industry content from top alarm system and home security specialists. Security System Reviews' industry writers and researchers are tireless in their efforts to ensure all of the company's review content, consumer tips and advisories, and additional reports and recommendations are completely fact checked and packed full with as many statistics and as much objective information as possible to guarantee that homeowners can make the best decision possible when making a home security system comparison. Security System Reviews also publishes a list of annual rankings of top home security systems, as well as best security wireless systems, the best do it yourself ones, and the best home automation systems.