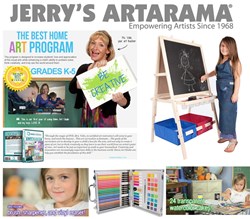 The holidays are always a fantastic time for Children to get interested in Art and we want to provide great deals to parents to help inspire their children.
Raleigh, NC (PRWEB) October 31, 2013
As the holidays approach and parents are looking to spend more time with their children, Jerry's Artarama is the premier seller of children's art supplies and materials, dvd's art kits and more is offering up to 85% off already low prices on select art supplies for kids.
"We want parents to spend time with their children and creating festive art and crafts for the holidays is a great way to do just that. The holidays are always a fantastic time for Children to get interested in Art and we want to provide great deals to parents to help inspire their children. Starting your children off with good quality art materials offers the best experience when just starting out. Jerry's Artarama is happy to provide the best in savings on Art supplies and gifts for kids this holiday season," said Michael Marchetta, Director of Marketing at Jerry's Artarama.
During the Jerry's Artarama online 2013 Holiday Sale running through December 31st, light up your child's eyes with children's supplies such as Kids art sets, painting sets, easels, paints, aprons, desks, instructional DVDs and many more products will be on sale and make great gifts for the season.
Kids art supplies on sale this year include art sets like the First Impressions Art Studio set and the First impressions Art-to-Go Box, which are two great ways to get any child interested in art, with each set featuring watercolor paints, oil pastels, and colored pencils or markers allowing children to explore different mediums. The Snazaroo Face Painting Gift Box features a fantastic assortment of face-paints that will liven up any holiday children's party. And another must have for any child artist is the First Impressions Art Smock and Brush Set. Keep your child clean with this brush set and water-resistant nylon kid's art smock for an amazing deal of just $5.49. At Jerry's Artarama, are also kids desks and easels. These desks and easels are a great way to enjoy creating art, doing homework, playing and having fun.
For kids especially around the elementary school age who want to learn more about art, Jerry's Artarama is the best place to find fun and instructional art DVDs including the award winning Home Art Studio series. The Home Art Studio was designed to increase students and children's love and appreciation for the visual arts. Each DVD features 18 fun and artsy projects and individually caters to students grades K-5.
To learn more about our 2013 Holiday Sale, please visit http://www.jerrysartarama.com/onsale.aspx or to find top art supplies and materials for Children, please visit http://search.jerrysartarama.com/search?keywords=kids+art+supplies.
About Jerry's Artarama
Jerry's Artarama was founded in 1968 when Jerry Goldstein opened his own art materials and supplies store in Long Island, N.Y., introducing discount pricing to budding and established artists. Jerry believed in treating customers like family, a tradition that still continues. Today, Jerry's offers factory direct-savings-as much as 75% off traditional retail on products from the industry's top art manufacturers, as well as Jerry's own product line-via an online retail store, art supply catalog and Jerry's Artarama Superstores. In addition, Jerry's Artarama serves as an artist resource by providing instructional workshops, new art supply demos, and special art-related events including the Art of the Carolina's Tradeshow, an annual event held in Raleigh, NC, Jerry's Artarama corporate headquarters.
For additional information, please visit http://www.jerrysartarama.com.