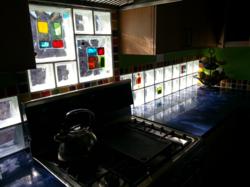 Today, whether a client is looking for privacy in a bathroom window, a shower, or a high-end kitchen design, we can fulfill their vision by fusing brilliant glass tiles onto glass blocks explains Mike Foti President of Innovate Building Solutions.
Columbus, Ohio (PRWEB) January 31, 2013
Glass block windows and walls have stood the test of time, enjoying an impressive safety and durability profile. Move over, clear blocks. 2013 is the year of color - colored glass blocks and artsy, eye-catching glass tile blocks, compliments of Innovate Building Solutions. These new design options range from subtle to vibrant and edgy, with a versatility that is unparalleled.
"Gone are the days when glass blocks were simply utilitarian, providing security and one or two basic looks," explains Innovate Building Solutions President and CEO Mike Foti. Today, whether a client is looking for more privacy in a bath or shower, or a customized, high-end kitchen design, we can fulfill their vision with all the gorgeous glass tile offerings at our disposal. Better yet, we can combine brilliant glass tiles and glass blocks for an unforgettable, high end design."
Art glass tile blocks are hand crafted tiles made by fusing layers of colored and clear glass together in a kiln. These tiles come in various sizes, 73 transparent and 46 opaque colors, and are fused to glass blocks. The units are utterly versatile, and can be used for a glass block shower or in a bathroom window for a pop of color, or to provide a calming, spa-like experience. In kitchen remodeling, this application can provide a functional backsplash allowing light transfer, it can serve as an accent wall or be a stunning focal point in the room.
Glass tile blocks can allow light penetration will offering privacy when used as sidelites or transoms at the front door, as well as in a den or a study. They can even be utilized to fashion partition walls or curved walls, both in the home and in commercial construction. Want a one-of a kind bar? These special art blocks provide a beautiful adornment for a ultra customized look.
If you're looking for an enduring, functional option with stunning beauty, glass block tiles are a premier option. For more information, contact Mike Foti at Innovate Building Solutions, a nationwide supplier and regional installer of glass block windows, showers and walls in Cleveland, Columbus and Cincinnati Ohio. He can be reached at 216-310-1074 or email mfoti(at)innovatebuildingsolutions(dot)com