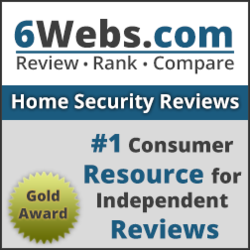 Compare the leading home security companies online at 6Webs.com.
Sacramento, CA (PRWEB) June 20, 2013
6Webs.com, leading home security systems reviews provider, releases their rankings of the best home security system providers in the nation. Recently finishing their home security systems reviews for 2013, the expert staff at 6Webs.com has published their in-depth reviews, comparisons and rankings of the top security monitoring providers.
Each year dozens of home security companies are reviews and assessed based on their customer service, monitoring technology, equipment and warranty to name a few. Each company is independently reviewed by a team of industry experts then the results are compared and tallied to see who scored the highest in each category.
To see the results of the 2013 Home Security Systems Reviews, please visit 6Webs.com online at:
http://www.6webs.com/home-security-systems-reviews/
Tim Smythe, the senior editor for 6Webs.com states, "Each year the home security team at 6Webs.com learns something new about the features and services provided by one of the home security system companies. This year it was the Geo-Services provided by FrontPoint Security. The Geo-Services allows customers to receive reminders when they leave a perimeter surrounding their home. The reminders inform customers to arm their home security system."
The top home security company who scored the highest marks across all categories in the 2013 reviews is FrontPoint Security. FrontPoint Security offers their customers 100% cellular monitoring services, wireless home security systems and a 30-day money back guarantee. FrontPoint Security is the only home security company that offers these services and maintains an A rating on the Better Business Bureau. To see how FrontPoint Security compares against the competition, please visit 6Webs.com at:
http://www.6webs.com/best-home-security-systems/
About 6Webs.com
6Webs.com is the leading home security reviews site that conducts annual reviews of dozens of home security companies. In addition to conducting independent reviews, the 6webs.com staff also publishes educational information on a regular basis to help families lead a safer and more secure lifestyle.