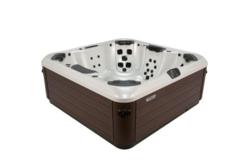 Salt Lake City, UT (PRWEB) February 05, 2013
Bullfrog Spas today unveiled their 2013 line of luxury hot tubs to the public via the Bullfrog Spas website and social media channels, and through Authorized Retailers. Bullfrog announced 2 new lines that are replacing their previous Series I & II spas. The A Series is a sleek full-featured luxury line and the R Series is a quality driven mid-price line.
The new Bullfrog Spas have been entirely re-engineered and redesigned with a sleek new look and advanced hydrotherapy massages. Foremost amongst the design changes is a patented hot tub massage technology called the JetPak Therapy System.
The 2013 JetPak Therapy System is available in Bullfrog's 2013 A Series and R Series spas. This proprietary hydro-massage technology allows the spa user to personalize their hot tub with the massaging spa seats (JetPaks) they choose, placed in whichever seats they choose. The JetPak Therapy System was re-engineered to make it more efficient, more powerful, and much easier for the spa user to exchange massages at any time. The JetPak Therapy System is protected by multiple patents.
The new JetPak Therapy System is a significant update on Bullfrog's previous JetPak Technology. The new technology does away with nearly all of the traditional plumbing behind the JetPak, instead using a proprietary H2Air manifold that mixes water and air and directs it to each jet without traditional plumbing, thereby creating a more efficient and reliable water delivery system to power Bullfrog's bio-engineered massages.
The 2013 JetPak Therapy System creates a hot tub that is completely customizable, easy to operate, more energy efficient, more durable and very simple to personalize specifically for the hydrotherapy preferences of the spa user.
Benefits of Bullfrog's new JetPak Therapy System include:
1. Creates a completely personalized spa massage experience
2. JetPaks are now lightning fast to exchange
3. New bio-engineered massages provide therapy at all the correct pressure zones
4. Far less plumbing for maximum efficiency and reliability
Visit your local Authorized Bullfrog Spa Retailer to experience the benefits of the new 2013 Bullfrog Spas with the new JetPak Therapy System in person.
About Bullfrog Spas
Founded in 1996, Bullfrog International, burst onto the pool and hot tub scene by creating quality portable hot tubs with patented JetPak Technology. JetPaks are modular jetted spa seats that can be interchanged at any time and JetPak Technology eliminates hundreds of feet of pipes and hundreds of pipe fittings, creating a more reliable and efficient plumbing system. In addition, JetPaks make Bullfrog Spas completely customizable by allowing the owner to choose their jetted massages and allowing these massages to be interchanged or upgraded at any time. Today, Bullfrog's new JetPak Therapy System is a completely re-engineered hi-tech version of their original JetPak System. Bullfrog International is headquartered in the Salt Lake City, Utah metro area and currently distributes, licenses, and retails its products in the United States, Canada, Australia, New Zealand, Asia, and Europe.
For any questions on Bullfrog Spas and when and where to see the new 2013 Bullfrog Spas and the JetPak Therapy visit the Bullfrog Spas website or call 801.565.8111.