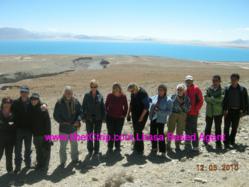 Tibet Ctrip Travel Service-TCTS (www.tibetctrip.com) is now taking reservations for their new groups join in Tibet tours!
(PRWEB) April 11, 2013
In light of the recent lifting of the ban on Tibet travel permits, Tibet Ctrip Travel Service-TCTS has begun taking reservations for its new join in Tibet tours. Tibet Ctrip can now match small travel groups with similar itineraries thus lowering the cost per person without sacrificing the quality and flexibility of a private tour. Whether travelers are looking to cut costs or just seeking the camaraderie of a small group of like-minded travelers, this is one of the best ways to travel Tibet. Some of the most popular join in tours includes:
Lhasa Culture Tour: This is great for travelers who are short on time. In just 4 days the tour visits places such as Potala Palace, Jokhang Temple, Barkhor Bazaar, along with Sera and Drepung Monasteries. This tour can be customized to suit traveler's interests.
The Mount Kailash Circuit Trek: Travelers looking to avoid the full expense of a driver and guide on this 14-16 day tour can cut costs by including a few other travelers. The trek around the base of Mt. Kailash is a holy ritual for Hindus and Tibetan Buddhists, giving travelers an excellent opportunity to learn about local culture. The Tibet trekking portion of this tour takes around 3 days, there will be plenty of time for acclimatization before it begins.
Everest Base Camp: On this tour, travelers will witness the magnificence of the world's tallest mountain and have plenty of opportunities to learn about Tibetan history and culture on this 9-day tour. Plenty of time for acclimatization is allowed while travelers enjoy a sightseeing tour of Lhasa.
Join in Tibet tours are a fantastic way to cut costs and make new friends from all corners of the globe. Spring has come to Tibet, featuring mountain flowers and clear blue skies, making for unforgettable overland journeys. The coming summer will bring warmer temperatures and opportunities to visit regions of Tibet that are inaccessible during the winter. TCTS offers a variety of join itineraries, departure dates are first come first serve so travelers are advised to reserve their spot as soon as possible.
Devin Moore provided this news release above on behalf of local Tibet travel agency TCTS (tibetctrip.com). Devin is a travel writer and independent economic analyst based in Springfield, Missouri USA. His economic research is currently focused on airfare pricing. Devin Moore works to spread awareness of Tibet and its people through publishing Tibet travel information.