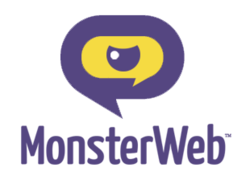 Just because someone has a bunch of power tools, doesn't mean they're a carpenter...just because someone has a computer, doesn't mean they're a web developer.
San Antonio, TX (PRWEB) June 13, 2013
MonsterWeb, an interactive marketing agency focused on San Antonio SEO and social media optimization, announced this week, their refreshing new brand, designed to better convey the company's goals to each of its clients located throughout the United States and over a dozen countries worldwide.
"Having been in business for over a decade, it was time for a fresh look, to bring renewed excitement to our biggest passion; internet marketing," said MonsterWeb's Online Marketing Director, Ryan Schilling.
For over a decade, MonsterWeb's staff of, highly trained, SEO experts have focused their efforts on the needs of their clients, of which, interactive marketing has been critical. Unlike most other web agencies, MonsterWeb's development team builds powerful, mobile friendly websites within a powerful and elegantly designed content management system that is easily customizable and incredibly SEO friendly. After launching each website, MonsterWeb's San Antonio development team, working with MonsterWeb's San Antonio SEO team, is then able to market the client's site online using the biggest search engines to gain incredibly successful results.
While MonsterWeb has numerous clients all over the world, our largest client base is right here, in the United States. From New York to Miami, California to Maine, our clients' locations are as diverse as their unique industries, and MonsterWeb knows their needs. As with any new branding campaign, it is important that MonsterWeb moves in a positive direction, not only continuing the great service we've always provided, but by focusing on new opportunities, especially those within our local market to reach a higher level of one-on-one service in and around the San Antonio area which includes competitive local markets such as New Braunfels, Seguin, and Austin Texas.
"Business owners are tired of constantly seeing their competition rank higher in the search engines. At MonsterWeb, our focus is to help those business owners out rank their competition while carefully balancing their websites look and functionality," said MonsterWeb's Operations Director, Darryl Fresne.
MonsterWeb is located at 1259 Loop 337 Ste 101, New Braunfels, Texas, 78130. You can reach the company at 210-698-8888 or visit their website by going to monsterweb.net.
MonsterWeb, an interactive marketing agency specializing in San Antonio SEO, announced their new branding this week.