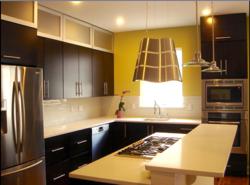 In 2012, "Traditional" kitchen design was dethroned by the more-modern "transitional" style in the National Kitchen And Bath Association rankings for the first time ever in the history of the rating system.
(PRWEB) November 05, 2012
HomeThangs.com – the Home Improvement Super Store has made their goal to deliver the right product to the consumer, with that in mind, shopping and home design tips, as well as special product selections are being introduced.
By and large, kitchen design trends are among the slowest changing trends there are, due in no small part, to the fact that kitchens are expensive, time consuming, and invasive to re-do. But there's been a gradual but major upheaval in kitchen design in the last few years, and a major change in the way that designers look at the kitchen space. HomeThangs.com introduced top ten 2013 kitchen design trends to help homeowners give their kitchens a facelift that would look up-to-date for the years to come.
1. Moving Toward Modern
In 2012, "Traditional" kitchen design was dethroned by the more-modern "transitional" style in the National Kitchen And Bath Association rankings for the first time ever in the history of the rating system. That means there's been a fundamental change in all levels of design, from material used, types, sizes, and shape appliances, down to even how the kitchen is used. So for the new 2013 kitchen design, one needs to think simplified lines and big, open spaces made with gathering in mind.
2. Hideaway Appliances
Those who have their finger anywhere near the pulse of kitchen trends, probably already know that stainless steel appliances are the new must-have for a kitchen. But what one might not know is that even more unusual appliances are going to be at the forefront of 2013 kitchen design trends. First, there's going to be a lot of appliances designed to blend in with the rest of the kitchen – specifically ones fronted with the same wood or lacquered material as the cabinets. Secondly, a major 2013 kitchen design trend is hidden appliances. This goes a step beyond the cabinet material camouflage and means an increased emphasis on small or odd shaped appliances, like under-counter or mini refrigerators, and other compact appliances (from trash compactors to wine coolers) that will provide more counter space and keep the kitchen at a seamless waist-high level, and are perfect for installing into a kitchen island.
3. All-Over Lighting
Good kitchen lighting is becoming more and more important. Because large, open kitchens are becoming the primary entertaining center of the home, lighting should be layered, combining lots of task lighting with ambient lighting. Built in LED lights will be more popular in 2013, so look for under-cabinet LED lights and appliances that come with ambient lighting. 2013 kitchen design trends say no to lighting that's merely functional, and make ample lighting a must for creating an inviting living space.
4. Kitchen Island Getaways
The inclusion of big kitchen islands in designer kitchen remodels has been becoming more and more ubiquitous in the past several years, and that isn't about to change in 2013. In fact, one would be hard pressed to find a decently sized kitchen without one. 2013 kitchen design trends move away from dining rooms and towards eating, drinking, and interacting in the kitchen itself, and a large kitchen island complete with bar stools is the perfect way to make this happen, while creating a nice open-air feeling – especially if one can be used to bridge kitchen and living areas, another major 2013 kitchen design trend. If the kitchen isn't big enough for a full sized island, one might still want to consider a kitchen island cart for added utility and prep space.
5. Eco-Friendly Everything
Likewise, the green movement isn't going anywhere, and 2013 kitchen design trends reflect this in almost every way. Basic materials will be more eco-friendly (like bamboo floors and modular MDF kitchen cabinets), and even appliances should have an EnergyStar rating or other energy efficient features. The more extensive the renovation, the more important it is that it gets done right, because it'll save on the startup (in the form of government subsidies) and in the long run (in the form of lower utility bills).
6. Natural Color Schemes
Nature isn't just showing up in the form of natural friendly building materials, either. 2013 kitchen design trends have neutral colors on the rise (just like in bathrooms for 2013!), especially grays and greens, with a continued emphasis on a variety of wood tones. Classical black and white is making a comeback, too, but bold, bright colors should be reserved for small pops and accents. Bright orange cabinets or wild wall paint are definitely out this year, but neutral textured wall papers offer an excellent way to add visual interest to a light neutral decor.
7. Culinary Quality Cooking Appliances
As the kitchen increasingly becomes the entertaining center of the home, restaurant quality kitchen appliances are starting to become more common as well. That's why the big appliance go-tos for 2013 kitchen design are professional gas ranges and induction cooktops. Each have their own advantages – gas cooktops have rapid, responsive, and very high heat, while induction cooktops provide even, energy-efficient and child-safe heating. Either way, both are fit for gourmet kitchens and make a nice pair with a kitchen island for a Benihana-style cook-and-dine.
8. Decorative Range Hoods
To go with those high powered stoves, one is going to need a high powered kitchen range hood. But 2013 kitchen design trends away from a conventional stainless steel trapezoid shaped hood to more decorative range hoods like those from Elica. Ones with built in bright LED lights double nicely as island chandeliers, adding a fashionable modern style to a traditionally highly functional fixture.
9. Super Stylish Sinks
Oft-overlooked but not to be ignored, the kitchen sink should be a focal point for the 2013 kitchen design, especially if looking do smaller facelifts rather than a major overhaul. Perennially popular stainless steel sinks are going to find their heyday again in 2013 for their modern style, durable structure, gourmet culinary style, and low maintenance. Though if looking for something a little more traditional and less modern/industrial, look into stone composite, copper sinks or fireclay farmhouse sinks that will boost the eco-friendliness of the kitchen and offer a smooth, non-porous sink that won't show wear and tear.
Chef-Quality Faucets
In the same light, one shouldn't overlook the kitchen faucets, either. The right faucet can add oodles of style and seriously update kitchen space. For the 2013 kitchen design, look for culinary style sinks, especially those with pull-down faucets to streamline the counter space. High tech faucets (like Delta'sTouch 2O faucets) are a plus for those who do a lot of messy cooking, but the most important thing is to get a simplified, restaurant style tableau packed with practical utility.
10. Glass Backsplashes
Last but certainly not least, 2013 is a good year for glass. High gloss abounds everywhere, from cabinets to appliances, but nowhere is this more striking than in the rise of single-sheet, back-painted glass backsplashes. These are seamless, easy to clean, and slightly reflective and add a lovely polished finish to the kitchen. The look of a single glass sheet can be replaced by also-popular glass mosaic tile sheets like those from Martini Mosaic for example, for a quick, easy, and inexpensive weekend project that will dramatically update the kitchen for the new year.
HomeThangs.com is not only a home improvement superstore, it also provides expert design tips and a comprehensive shopping guide, taking the ideas from professional interior designers, and offering tips to the consumers on how to pick the products to best suit their needs.