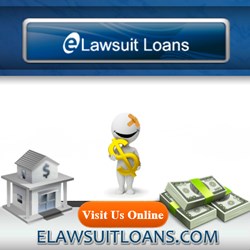 Lawsuit funding innovations that help meet the financial needs of plaintiffs, while attorneys can focus on what they do best; representing their clients.
New York, February 27 (PRWEB) February 28, 2013
E Lawsuit Loans, a leading national lawsuit funding company, announced today the launch of the legal funding industry's very first online lawsuit funding approval platform; designed to meet the moment to moment needs of their customers.
The six year old, innovative New York based litigation funding company offers a comprehensive assortment of high quality lawsuit loan services with the most competitive interest rates in the industry. The new inventive legal funding platform gives plaintiffs and their attorney's the opportunity to make initial inquiries, apply for funding, and check the status in real time, all through the company's new lawsuit funding approval status platform.
In making the announcement, Vice President Robert Livingston said, "We are committed to using the latest internet technologies and innovations to help meet the immediate needs of the plaintiffs and attorneys we serve. Plaintiff's obtain financial relief, while attorneys can focus on what they do best; representing their clients."
The new platform is available 24/7, giving customers the ability to apply for lawsuit funding, send documents, and check on their status without having to make repeated phone calls. Attorney's and their paralegals need easy-to-use, fast answers without wasting time; now they will have timely information regarding their client's funding applications with the click of a mouse.
Livingston explained, "Our clients are personal injury plaintiffs who have already been through injuries and trauma, having to face a financial challenge just adds to their heavy burden. They want a legal funding company that not only understands their personal plight, but one who will work with them in a timely fashion to get the money they need so desperately to survive as their case winds through court. That is exactly what E Lawsuit Loans will do."
The popularity and growth of lawsuit funding not only reflects our economic times, but the ever present financial need of personal injury plaintiffs, many of whom are recovering from severe injuries. An injured plaintiff often does not have the resources to see their case through to a final determination. For most plaintiffs their injuries have affected their ability to earn a living, and pay bills. A lawsuit cash advance will not only help with financial obligations but often leads to higher settlements as the plaintiff is not forced to settle for less.
E Lawsuit Loans has built a reputation with plaintiffs and personal injury attorneys as a first-choice, reputable legal funding company. With such a talent and years of experience, they are able to lend on nearly any case type including auto accident loans, workers compensation, and even commercial cases. The company is known for their outstanding service, the most competitive interest rates, and of course an innovative and easy experience for both plaintiffs and attorneys. Attorneys look to E Lawsuit Loans for their expertise and experience which makes for a smooth experience for everyone involved.
Company Profile:
E Lawsuit Loans advances funds to plaintiffs pursuing personal injury claims in court; in return, they secure a portion of the proceeds that may flow from successful case settlements. If the case does not settle, or loses at trial, the advance is forgiven. The company's services include: lawsuit funding, settlement loans, litigation funding, lawsuit loans, and auto accident loans.