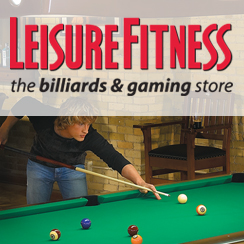 Leisure Fitness is excited to expand the product offering of family gaming and billiards, to provide more value to our customers and remain within our health and wellness category.
McLean, VA (PRWEB) June 27, 2013
The Leisure Fitness - Tysons Corner location in McLean, VA will now carry a new category of fitness, family gaming and billiards, with a full selection of Brunswick Billiards. The Tysons Corner location is a one-stop retail shop for all home and commercial fitness equipment as well as family games and billiards to continue to provide customers with the tools for a healthier and more active lifestyle.
Leisure Fitness believes in the promotion of health and wellness in all aspects of your life from leisure activities to your fitness goals. Providing active family gaming and billiards products allows our current and future customers to be active during work through the use of the treadmill desk, during family time and family fun through playing billiard games like shooting pool or playing table tennis, and during the time motivated to improve cardiovascular fitness and muscular strength through a full selection of commercial and residential fitness products.
The Leisure Fitness Tysons Corner staff has a wealth of knowledge in health and fitness as well as a strong familiarity with the billiards and gaming industry specifically with Brunswick products. Brunswick Billiards is a sister company of Life Fitness which the Leisure Fitness Staff has enjoyed selling for years.
Leisure Fitness operates under the philosophy that to reach a wellness destination people must have education and motivation. Therefore, Leisure Fitness provides a professional, educated staff of experts who are knowledgeable about all of the equipment's capability and performance specifications as well as what equipment is right for any of the countless individual needs that their customers can and will have.
The Leisure Fitness Store in Tysons Corner will have a full selection of billiards equipment; pool tables, shuffle board tables, table tennis, air hockey tables, foosball tables, billiard furniture, and home gaming accessories.
Chip Labbe, Manager for the Tysons Corner Store, said, "Leisure Fitness is excited to expand the product offering of family gaming and billiard, to provide more value to our customers and remain within our health and wellness category." Chip has over 12 years of industry experience in the Washington DC and Virginia market.
Leisure Fitness is passionately committed to providing the tools that will help its customers get fit and stay fit. All the products displayed and sold at Leisure Fitness are carefully reviewed to insure that every item is of the highest quality and engineered to deliver results. Once becoming a member of the Leisure Fitness customer family, Leisure Fitness makes every effort to continue to motivate and educate their customers with a variety of services designed to keep people moving towards their fitness goals and beyond.
To promote wellness in the community, Leisure Fitness is offering free Corporate Wellness Seminars to major employers in McLean, VA and surrounding communities. Other organizations that have taken advantage of these seminars include Princeton University, Siemens, Wawa, FBI, Johns Hopkins Hospital Systems, and Astra Zeneca.
If you'd like more information about Leisure Fitness please visit LeisureFitness.com, or contact store manager, Chip Labbe, at (703) 506-9200. If you are interested in Corporate Wellness Seminars, please call Anne Stephenson, at (302) 224-5062.