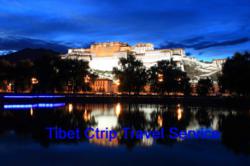 Have a tight schedule and budget for Holiday in Lhasa? Local travel agent make it possible now!
Lhasa, Tibet (PRWEB) April 12, 2013
Tibet travel agency, Tibet Ctrip Travel Service-TCTS (http://www.tibetctrip.com), is helping travelers on a tight schedule experience Tibet. In just four days, travel groups can see some of Tibet's most famous cultural sites and catch a glimpse of its natural beauty, all without having to leave Lhasa. The quickest and easiest way to arrive is by air; travelers' native Tibetan guide will pick them up from airport. After a night's rest, travelers will begin their tour.
4 days Lhasa city culture tour program detail is as below:
Day 1: Arrive in Lhasa. The travel group's native Tibetan guide will meet them at the airport and accompany them to their hotel for rest and acclimatization. Once they check in, travelers are advised to take it easy and avoid intense physical activity. While acclimatizing, be sure to keep hydrated.
Day 2: Guided sightseeing tour of Lhasa. On the first day of sightseeing, many travelers visit Jokhang Temple and Potala Palace. These are some of the most valuable cultural assets of the Tibetan people and are likely to by the highlight of the Tibet tour.
Day 3: More sightseeing tour in Lhasa. On the second day of sightseeing, most travelers choose to visit Drepung Monastery in the morning then to see the debating monks of Sera Monastery in the afternoon. Travelers interested in seeing some of Tibet's mountain scenery can opt for a day trip to Lake Namtso.
Day 4: Depending on traveler's flight time, there may be time to do some last minute exploring before heading to the airport. The group's native Tibetan guide will see them off at the airport.
Taking a few days to tour Tibet is an incredibly worthwhile use limited travel time. A four-day tour allows travelers to learn about Tibetan culture and see its natural beauty while still leaving time to explore place like China or Nepal. TCTS can assist travelers in extending their tour to include Kathmandu or several travel destinations in China. Those on a short trip can easily catch a flight home from many of China's major cities. With summer in Tibet right around the corner its time to start planning a trip now.
Devin Moore provided this news release above on behalf of local Lhasa travel agency. Devin is a travel writer and independent economic analyst based in Springfield, Missouri USA. His economic research is currently focused on airfare pricing. Devin Moore works to spread awareness of Tibet and its people through publishing Tibet travel information.