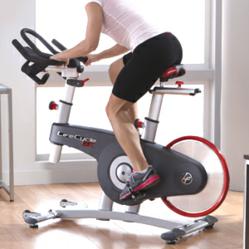 The Life Fitness GX has an excellent design, comfortable seat and handlebars for ideal riding posture, and offers a smooth and quiet ride.
Washington, DC (PRWEB) February 28, 2013
Life Fitness, the company that brought you the original Lifecycle® exercise bike now introduces the Lifecycle GX. It's biomechanically designed and user-tested to ensure a comfortable yet effective workout. Plus quality construction provides long-lasting durability ride after ride.
The dedicated, in-house biomechanics team has studied human movement and machine interaction to develop a bike that stands at the head of any class. Lifecycle GX has the most in demand features and a bold rear flywheel design that spins like no other. Engineered for low maintenance even with high volume use, this is one bike built to last class after class, in a health club is now available for your home.
The LifeCycle GX is feature rich, and is a stand out product among the current indoor cycle category:

Large overall adjustment range provides the most proper bike fit for a wider user range and Micro fore/aft adjustments allow users to set seat and handlebar to most optimal position relative to height and body type.
Multi-ribbed belt drive with magnetic eddy current for a smoother, quieter ride with less maintenance.
Unique rear drive system keeps flywheel away from sweat zone.
Precision resistance brake lever allows user to gauge and repeat resistance with optional cycling computer.
E-coated steel and plastic shrouding protects frame and sensitive mechanisms from dirt, sweat and water.
Durable urethane stretch platforms allow user to properly stretch calf muscles. Ergonomic cycling seat with cut-out provides extra comfort and air flow; optional wide seat available.
Ergonomic handlebar design for comfortable upper body positioning; dual water bottle receptacles can be used as digital device holders.
Dual-sided SPD pedals provide a hard surface for riders wearing soft sole shoes; features standard SPD pedal clips for those wearing cycling shoes.
Optional cycling computer is mounted to remain in an optimal viewing position and provides continuous performance feedback for a more effective workout. (Optional Polar compatible chest strap required.)
The full selection of Life Fitness products which includes the Life Fitness GX Indoor Cycle is available at Leisure Fitness Retail Stores in Delaware, Maryland, Virginia, Pennsylvania, and New Jersey.
Leisure Fitness Director of Sales & Marketing, Andy Leshik, explains "The decision by Life Fitness to join the indoor cycle category was very intelligent. The Life Fitness GX has an excellent design, comfortable seat and handlebars for ideal riding posture, and offers a smooth and quiet ride."
About us: Leisure Fitness is a Specialty Fitness Equipment retailer with 25 locations from White Plains, NY to Richmond, VA. Leisure Fitness provides high-quality fitness equipment for your home, office, or fitness center. Fitness equipment includes treadmills, elliptical cross trainers, home gyms, rowing machines, free weights, and accessories. Family fitness gaming equipment includes pool tables, shuffleboard, air hockey, foosball, table tennis, furniture, and accessories.