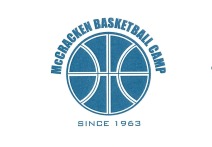 Each camper should have fun and learn to become the best player that he or she can possibly be.
San Rafael, Calif. (PRWEB) February 11, 2013
In the summer of 2012, The McCracken Basketball Camp celebrated its 50th summer in operation, and later that year the camp mourned the loss of the one person who had been with the camp since its inception. This summer will celebrate the life of Louise McCracken, who passed away on December 19, 2012.
The camp was founded in 1963 by her father-in-law, Indiana's Hall-of-Fame coach Branch McCracken, and she began her career helping with registrations and camp check-in. Louise's husband, David, became director of the camp in 1970 and she became the office manager at that time.
Under their leadership, David and Louise grew The McCracken Basketball Camp into one of the largest and most respected instructional sports camps in the country. When David died in 2001, Louise continued to work daily with the camp, both in the office and at its various locations throughout the Midwest. Everyone who came in contact with Louise remembers her cheerful attitude and the kind welcome she gave to all campers and their parents. She will be greatly missed by all.
Continuing in the tradition that she helped forge, the camp goals will not change. Current Camp Director Todd German states, "Two goals of the camp have been that each camper should have fun and learn to become the best player that he or she can possibly be. We continue to work toward these two goals in every camp activity."
"Todd German represents one of the finest directors we have in our family of basketball camps," says Brent Koonce, VP of Basketball Operations for US Sports Camps. "After working with him for several summers now, our feedback is always exceptional and it is my goal to continue to offer high quality basketball programs with Coach German for years to come."
There are 25 individual McCracken camp sessions for boys and girls of all skill levels. The camps are located at nine different locations throughout the Midwest including programs in Indiana, Michigan and Wisconsin.
About US Sports Camps:
US Sports Camps (USSC), headquartered in San Rafael, California, is America's largest sports camp network and the licensed operator of NIKE Sports Camps. The company has offered summer basketball camps since 1975 with the same mission that defines it today: to shape a lifelong enjoyment of athletics through high quality sports education and skill enhancement.
Players, coaches, parents and others interested in the 2013 McCracken Basketball Camps can visit USSportsCamps.com or call 1-800-433-6060.