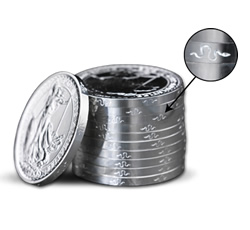 Santa Monica, CA (PRWEB) April 16, 2013
The British Royal Mint has released their very first pure silver, legal tender coin struck with a privy marked rim, the 2013 Lunar Series Silver Britannia. California-based premier gold dealer, Merit Gold & Silver, has the exclusive rights to sell the limited edition coins struck by the government mint.
For the first time in their 1,100 year minting history, The British Royal Mint has released a .999 pure Fine Silver legal tender utilizing a technique to deter counterfeiting; a privy marked rim featuring a total of eight iconic Year of the Snake emblems from the Chinese Lunar Calendar. The 2013 "Year of the Snake" Silver Britannia is available to American investors and collectors exclusively through Merit Gold & Silver.
The 2013 Lunar Series Silver Britannia features the bust of Queen Elizabeth on its obverse and sculptor Philip Nathan's image of a standing Britannia on the flipside. The personification of Great Britain is stunning with her flowing hair and gown. In addition to her trident, shield and helmet (paying homage to her Roman origin) she clenches an olive branch in her hand symbolizing her quest for peace.
Packaged in protective tubes including a tamper-proof seal, Merit Gold & Silver customers will have the opportunity to buy packages of 20 coins or boxes of 500 coins; each coin weighs 1 Troy Ounce (31.1035g). Consumers can choose between receiving the physical coins or including them in an IRA investment. The coins have been produced to meet the high standards associated with the British Royal Mint, allowing the pieces to be pre-approved for IRA investments. The authenticity of the 2013 Lunar Series Silver Britannia is guaranteed both by Merit Gold & Silver and by the British government.
About Merit Gold & Silver
Precious metal broker Merit Gold & Silver, formerly known as Merit Financial, has been on a mission since 1986 to provide the best value and service to clients interested in buying gold, silver and diversifying their portfolios. More than 250,000 gold and silver investors have used Merit Gold & Silver to add gold coins, silver bullion and precious metal investments to their portfolios.
Since the company's inception, Merit Gold & Silver has evolved to become one of America's premiere precious metal dealers dedicated to the craft of making it easy, safe and secure for consumers to buy gold and silver online. The organization's multilevel approach to consumer satisfaction has helped Merit Gold & Silver develop a loyal customer base and attract precious metal collectors new to the game. In addition to being a reputable precious metal dealer with an AAA rating with the Business Consumer Alliance, Merit Gold & Silver has an expansive array of gold bullion, platinum coins, silver bars and a variety of precious metals produced by reputable mints.
CONTACT:
Mike Getlin, Executive Vice President
800-515-5019
info(at)meritgold(dot)com
SOURCE: Merit Gold & Silver
###