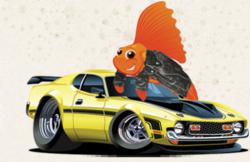 First of all, college grads who are moving off campus to be living on their own, paying for utilities and groceries and rent themselves, absolutely positively MUST create a budget.
San Francisco, CA (PRWEB) June 08, 2013
RoadFish.com men's lifestyle and finance magazine today issued their congratulations to soon-to-be college graduates, and imparted some financial wisdom that could be incredibly helpful in their next phase of life.
RoadFish.com was inspired by a Huffington Post article, written by Jeanne Kelly and published June 6th 2013, pinpointing four credit mistakes that many recent college grads make.
Kelly's article identifies areas such as maxing out a credit card, and even not getting a credit card at all, strange as that might sound. Maxing out a credit card, Kelly reports, is the effect of what happens when penniless college students all of a sudden have access to thousands of dollars in a credit line, and go off the deep end. Whereas going the complete opposite route can hurt as well, since as Kelly states, credit can't be built without credit history. And having a credit card provides the opportunity to borrow money, pay it back on time, and prove one's trustworthiness to credit bureaus. This is how not having one can actually impede the success of one's credit history.
To tag onto the "what not to do" tips, RoadFish.com issued their own set of advice to college grads about what it is that they should be doing. RoadFish.com's Senior staff writer is quoted as saying, "First of all, college grads who are moving off campus to be living on their own, paying for utilities and groceries and rent themselves, absolutely positively MUST create a budget. It might sound really corny, but at the end of the month when the rest of your friends don't have the dough to go out because they blew it all earlier that month, you'll be sitting pretty because of your budget. Not only does it show you where all your money is coming from and going to each month, it's a good marker for how much you'll need to be earning to support your lifestyle. Maybe after doing a preliminary budget, you realize that you're going to need to take on more than just a part-time summer job if you want to live in that trendy condo downtown. Create budget, make adjustments as necessary, and thank me later."
The above-mentioned Huffington Post article states that another thing new college grads don't do that they should is check their credit reports. Kelly states that new grads are busy folks, and often don't check their credit reports which can lead to being unaware of everything from identity theft to overdue debt.
RoadFish.com could not agree more with college grads needing to check their credit frequently. RoadFish.com is quoted as saying, "Newsflash for all college grads: get in the habit of checking your free credit scores! Maybe this is the first time you are hearing this, but by law, credit bureaus are required to give you one free credit report per year, per bureau. That means you can get up to three free per year—since there are three major credit bureaus. Get in the habit of checking it at the same time every year, so you don't forget. It's a good idea to check for inaccuracies and identity theft, of course, but also it's great to know where you're at. You need good credit for everything these days from getting hired, to renting an apartment, to buying a car. If your credit's not decent, you'll want to know well before the fact so you can take action to get it where you need to be."
About RoadFish.com:
RoadFish.com is an online magazine for men, geared towards providing finance and lifestyle tips and advice towards male readers in their 30's and 40's. RoadFish.com features articles on topics ranging from luxury items, to vacation ideas, to dating advice, to hot chicks. RoadFish.com also writes financial columns, offering budgeting and credit advice as well as reporting on the U.S.' current economic state. RoadFish.com is owned and operated by Purpose, Inc.