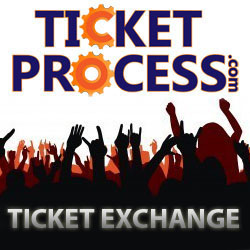 (PRWEB) October 09, 2012
British rock band Muse is currently in the midst of a large worldwide tour that will bring them to Spain and France in the upcoming weeks, and they will bring their popular act to American soil in the beginning of February. TicketProcess is thrilled to announce that they will be offering Muse North American Tour tickets as well as Muse presale tickets to each of the scheduled dates.
Although much of Europe is familiar with the stellar sound of Muse and their impressive body of work, many in North America are just now getting to know the talented trio. The band appeared on the iconic late-night comedy show Saturday Night Live this past weekend, which coincided with the release of their sixth album. The live audience gave the band a rousing ovation immediately following both of their performances, which included incredibly artistic and unique guitars that are sure to be seen on the upcoming tour. The band's plan is to expose the millions of modern rock fans in the United States to their addictive sound, and they will do so over the course of nine live North American shows in February, March and April of next year.
Muse concert tickets have popped up all over the Internet in recent days, but fans that are looking for an affordable and reputable site with lightning-fast shipping would be wise to check out what is happening at TicketProcess. The first show on the Muse North American Tour will take place on February 3rd at the Rexall Place in Edmonton, and six of the nine shows will actually take place north of the Canadian border.
The cities of Detroit, New-York and East Rutherford will all play host to the band, and Muse tickets to these dates are expected to be some of the most coveted on the entire tour. The Joe Louis Arena in Detroit will be filled to the rafters with Muse fans on the night of Saturday, March 2nd, and after a brief break from the tour the band will play two East Coast shows within a few days of one another in the middle of April.
Muse is excited about the opportunity to bring their act to the United States, and their powerful and emotional songs have a universal appeal that is likely to make them millions of North American fans in the upcoming months. Concert Fans hoping to get their hands on 2013 Muse tickets for any dates to the upcoming Muse North American Tour should make a visit to TicketProcess.com.