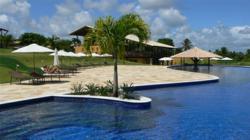 Brazil's property market shows no sign of cooling off with property prices and rents still rising rapidly. Natal, meanwhile, has several new infrastructure projects happening ahead of the World Cup.
(PRWEB UK) 29 April 2013
Loxley McKenzie, Managing Director of Colordarcy commented, "Brazil's property market shows no sign of cooling off with property prices and rents still rising rapidly. Natal, meanwhile, has several new infrastructure projects planned ahead of the World Cup. This will encourage not only domestic tourists but also those from other parts of the world who may not have visited the country before.
Natal is certainly a great place to start discovering Brazil and it is the closest of the coastal cities to Europe in terms of distance, with less than 7 hours flight time from Lisbon."
Colordarcy analysts point out that while there are no published indications of how fast property in Natal is rising in value, inflation in Natal is reported to be rising at a rate of 7.31%, which is above the national average and this will inevitably feed through into the value of property.
The World Cup will bring a major boost to tourism in a city that is already popular with domestic tourists. Colordarcy highlights that, with this in mind, the Secretary of State for Tourism in Rio Grande do Norte, Renato Fernandes, revealed plans to upgrade Natal's tourist infrastructure.
The ambitious politician aims to add marinas, golf courses, five and six star hotels and a theme park to attract more tourists to the city. Another major attraction for foreign investors in Brazil property are tax exemptions for foreign investors who invest in real estate trusts.
The government has introduced the tax breaks to actively encourage investors to help support the country's growing real estate market and to invest for the long term. This friendly welcome to investors has seen cities like Sao Paulo, Brazil's largest city, move from 26th to 4th on the list of top global cities for foreign investment in real estate.
Brazil's Association of Mortgage and Building Lenders have revealed that property lending, which includes mortgages and loans to real estate developers, reached an all-time high of 82.8 billion reais in 2012.
The good news is that unlike the property bubbles which formed in Europe and the US in recent years which were cause in part by reckless lending practices, Brazil's population remains conservative in their appetite for borrowing.
McKenzie added, "Brazil remains one of the best markets to invest for high capital growth and strong cash flow. Rents have risen by more than 17% in Sao Paolo alone in the past 12 months and with an average annual increase in property prices of nearly 14% in the past 12 months, it is easy to see why investors might be tempted to travel a little further from home.
Cities like Natal are still at an emerging phase of growth compared to more established investor locations such as Sao Paolo and Rio, however Natal has a lot to offer those want to take advantage at an early stage of the property market's development."
Colordarcy is currently offering investors the opportunity to invest in the Girassóis Lagoa Resort. The development consists of 44 studios and 24 one-bedroom townhouses, all fully equipped with a large balcony views of the stunning Guaraíras lagoon.
Girassóis Lagoa recently won the Americas Residential Property Award for the Best Development In Brazil and comes with a 5% Net Rental Guarantee for Three Years and 6 Weeks' Personal Usage for Owners. Prices from just €71,995 / £62,000.