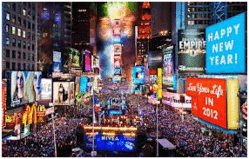 Happy New Year to all, and may 2013 be a safer, healthier, more prosperous and Happier New Year for everyone.
Libertyville, IL (PRWEB) December 29, 2012
LDS has announced that it is providing a New Year's 2013 Countdown Clock for New York, Chicago and Los Angeles, so that celebrants in all three cities and their respective time zones can watch the final days, hours, minutes and seconds of 2012 count down to the arrival of 2013.
Millions of people across the country, and billions around the world will be celebrating New Year's in only a few days. Countless full-color LED displays and clocks have become a huge part of the spectacle the world over during this annual celebration. The variety of colors and the intense brightness of LED's are almost the equivalent of fireworks, which have been used for centuries prior to the development of the LED technology we have today. Obviously, the LED displays provide a much safer and more versatile light show. Furthermore, anyone who has visited Times Square recently, along with many other prominent cities around the world, has seen huge LED displays dominating the landscape with eye-popping video, pictures and graphics for both advertising and live streaming news feeds.
LED Display Signs offers a full range of full-color LED displays for both indoor and outdoor use. Everything from small window LED signs to full-size billboards can be made to order to fulfill the user's needs, whether it be displaying a simple text message or lighting up the street with dazzling graphics and video for a New Year's celebration.
From a technological standpoint, LED displays have completely changed the look and feel of ringing in the New Year. Those who can't or would prefer not to attend the massive celebrations like the one in Times Square can still feel like they're there with the use of portable billboard displays that are set up at smaller and more controlled indoor celebrations. Technology can be a beautiful (and fun) thing, and that should only get better in 2013. Happy New Year and may 2013 be a safer, healthier, more prosperous and happier New Year for everyone.
# # #