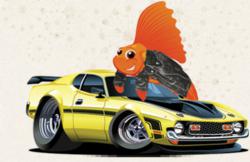 It would open up the doors for a lot more employment, and could even have a big and positive impact on the U.S.' economy as a whole.
Denver, CO (PRWEB) May 03, 2013
RoadFish.com men's lifestyle and finance magazine today released their support of recent legislation passed by the Colorado General Assembly that will impede employers' abilities to use credit reports in employment decisions for job hopefuls or current employees alike. RoadFish.com is happy to see another state get on board with separating a job candidate's financial history from their job qualifications, and applauded the Centennial State on their progressive thinking.
Jim Flynn reported recently for the Colorado Springs Gazette on a new development of a long debated issue. Flynn states that bill SB13-018, passed by the Colorado General Assembly and forwarded to the governor for signing, will legally restrict employers from using one's creditreport as part of weighing the qualifications of a job applicant for hiring or even the firing, demotion, or promotion of a current employee. The bill is called the Employment Opportunity Act, and will disable an employer from requesting consumer credit information to use for the purpose of an employment decision except in circumstances when the credit information is actually applicable to the job in question, for example a position requiring financial expertise or debt collection.
RoadFish.com is celebrating this new bill and applauded Colorado on becoming the ninth and latest state to pass such a law. RoadFish.com's Senior staff writer is quoted as saying, "It never has and never will make sense to me why employers seem to relate potential employees' past financial history with their ability to excel at a job position. And it's sad, because I'm certain that it creates an unfortunate Catch 22 for many people wherein they are in need of a job to settle financial debts while unable to secure one because of their past transgressions. It's a pretty sad cycle, when you think about how many excellent workers there are out there, passionate people who possess wonderful abilities and skills yet are judged on their financial house. Especially with the economic hardship our country has recently suffered, you would think more states would be understanding of this fact and pass similar legislation. It would open up the doors for a lot more employment, and could even have a big and positive impact on the U.S.' economy as a whole."
The Gazette article goes on to describe the bill in detail, including breaking down the clause stating that credit information which is "substantially related to the employees' current or potential job" may be considered by the employer. The bill considers credit information related to a job if the job is for an executive or managerial role, or if the position involves debt-collecting, finances, and a couple of other scenarios. According to the Gazette, Bill SB13-018 is slated to go into effect on July 1, 2013.
About RoadFish.com:
RoadFish.com is an online magazine that covers lifestyle, finance, and other current topics of interest to men in their 30's and 40's. RoadFish.com's articles range from pieces on luxury items for men, to restaurant reviews, to rating the best online dating websites. RoadFish.com also frequently publishes finance-related editorials to help men master budgeting, chip away at debt, and learn how to take advantage of free credit reports. RoadFish.com is owned and operated by Purpose, Inc.