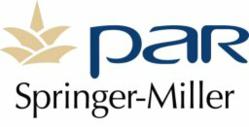 Employees utilizing Sertifi for Salesforce gain between 1 and 2 hours per week to close deals and generate more revenue for the company
Chicago (PRWEB) June 11, 2013
PAR Springer-Miller reduced the amount of time it takes to receive signed sales contracts from 3 to 5 business days to only 5 minutes with Sertifi for Salesforce, a pre-built electronic signature application. With more than 99% of contracts sent through Sertifi, the organization significantly shortened its sales cycle and serves customers faster.
"Employees utilizing Sertifi for Salesforce gain between 1 and 2 hours per week to close deals and generate more revenue for the company," said Greg Coolidge, Director of Enterprise Applications at PAR Springer-Miller Systems.
In addition to a rise in worker productivity, the elimination of paper, printing, and faxing helped increase customer satisfaction. Customers enjoy the convenience of signing anywhere, anytime.
Before implementing Sertifi, PAR Springer-Miller had a manual, paper-based process for getting hundreds of contracts signed. Sales would email a PDF contract to the customer for signature. The customer would print, sign, and fax back. The contract administration group would then countersign. Contracts missing information and back-and-forth communication greatly slowed the process. In some cases, contracts were never received at all.
PAR Springer-Miller now sends contracts directly from Salesforce within the Opportunity. Automatic reminders are set up to remind customers to sign saving time. Customers are designated as first-level signers and the PAR Springer-Miller contract administration group as the second-level signer. If customers need to carbon copy corporate, it is set up simultaneously. Once sent, customers can sign within minutes. Signed PDF copies are emailed to all parties involved in the deal.
The company also utilizes Sertifi's collaboration feature, Deal.Stream, to communicate with customers about the deal eliminating long email exchanges. Deal.Stream provides a real-time feed for communicating that is recorded and stored for future reference. All deal activity including when a customer asks a question or signs a contract is pushed through Chatter, Salesforce's enterprise social network. Sales uses Chatter internally to receive deal notifications from Sertifi and reduce email.
Contact Sertifi
For all sales inquiries, please call 1.866.983.8877 or submit a request form. Try Sertifi for Salesforce, today for free on the AppExchange. Installation takes less than 5 minutes.
About Sertifi
Sertifi provides eSignatures and Closing Automation Solutions that help organizations close deals faster. Sertifi enables sales teams to quickly reach agreements with customers and then execute the deals with electronic signatures. Customers can access Sertifi through its leading eSignature API, pre-built Salesforce and Microsoft Dynamics CRM integrations, and Web Portal. Leading organizations around the world including Pitney Bowes, CareerBuilder, U.S. Air Force, and Cricket Communications trust Sertifi.
About PAR Springer-Miller Systems
PAR Springer-Miller Systems provides Guest Centric Software and Services to the Hospitality Industry. The software has been developed in collaboration with the company's collection of luxury resort and city-center hotel customers, ensuring both breadth and depth of functionality. The company has over 1000 installed locations globally, with more installations every year. The organization is headquartered in Stowe, Vermont with additional offices located in Las Vegas, Toronto, London, and Kuala Lumpur. The company continues to be inspired by both existing and new customers to push the boundaries of hospitality technology to meet the expanding business needs of the hospitality industry. For more information, visit http://www.partech.com.