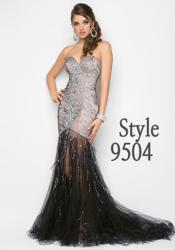 Multiple boutiques, especially in the Midwest, were calling their sales representatives in January requesting more stock pieces and placing special orders
New York, NY (PRWEB) April 17, 2013
Blush Prom, recognized as a top designer in the prom industry, set new records for prom sales this season.
"We were confident when we revealed our 2013 prom dresses collection on various runways last summer that this was going to be an award-winning year," said Blush representative, Sarah Simpson.
Retailers placed their orders and dresses were shipped all over the US starting in December. The company began receiving calls for re-orders a short month later.
"Multiple boutiques, especially in the Midwest, were calling their sales representatives in January requesting more stock pieces and placing special orders," Simpson said. "We knew our inventory would not last long this season which was exciting, but terrifying at the same time."
One Midwest Blush retailer, RaeLynn's Boutique, has sold over 200 Blush dresses since January. With about 1,000 dresses in stock, 200 dresses from a single designer is almost unheard of, according to the boutique owner.
"Blush received positive feedback to our prompt replies for special orders and we were able to maintain a steady inventory this season," Simpson said. "Our warehouse is almost empty now, but we are proud to say we experienced such huge sales this year."
The team at Blush Prom is busy preparing the 2014 prom dress collection for next prom season, promising trendy styles you won't want to miss.
About Blush Prom by Alexia
For over 30 years, Alexia Designs has been creating beautiful dresses for all occasions. Blush Prom, the high fashion division of Alexia Designs, offers 2012 prom dresses for proms, pageants, homecoming formals and other social occasions. You can view all of their dresses at http://www.blushprom.com