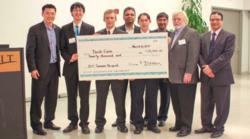 It is both fascinating and personally very satisfying to see how the students have progressed from being 'starry-eyed big government program idealists' to 'down-to-earth pragmatists'
Somerset, New Jersey (PRWEB) June 02, 2013
Currently over 60 students are enrolled in various Interdisciplinary Design Studio (IDS) programs at the New Jersey Institute of Technology (NJIT). Rangam Consultants, Inc., which is among the top strategic sourcing services and staffing firms serving its Fortune 500 clients in over 36 states in the United States, together with branding and marketing strategy company The Think Cloud and Brian Kiernan, will invest their money on eight students for summer long sponsorship. The two teams of four were selected at a presentation by 17 IDS teams during a recent workshop. The basic purpose of the workshop is to allow undergrads to use their theoretical knowledge to develop innovative technologies and also to venture into new businesses that justify their invented technologies. The two teams that received the summer stipend of $20,000 each were Autismind and TouchCare.
An NJIT bulletin says the students will be mentored by successful entrepreneurs from the corporate world, industry experts, renowned in-house faculty members as well as those from other reputed institutions. The course materials will include professional ethics, project development, global diversity, entrepreneurship and management.
"Practical knowledge and personal self-confidence gained by the students during the project development process is more important than the theoretical knowledge gained in the classroom environment. It is both fascinating and personally very satisfying to see how the students have progressed from being 'starry-eyed big government program idealists' to 'down-to-earth pragmatists' recognizing that one can also change the world through small incremental steps, while making a profit at the same time," said Mr Kiernan, who is a charter member of the NJIT IDS External Advisory Board.
The IDS Program was founded in 2011 by Dr Atam Dhawan. In the current season there are three active class years comprising 17 teams. Once the program gets going steadily, there will be four class years at the same time.
"What these students have accomplished in such a short time is nothing short of amazing," said Dhawan. "I'm so proud of what they've done and I know that after they graduate they will improve the technological fabric of American society," he added.
"Entrepreneurs and small businesses have been playing and will continue to play a key role in the growth of US economy in areas of innovation and technology. So a program like IDS is of paramount importance for engineers to receive better training from industry experts in order to become young, successful entrepreneurs," said Nish Parikh, Vice President of Rangam Consultants.
"Rangam is really fortunate to participate in and support the IDS Program. We're looking forward to the success of the Program developed by Dr Dhawan," said Hetal Parikh, CEO of Rangam.
About Rangam Consultants, Inc.
Founded in 1995, Rangam Consultants, Inc. (RCI) is a privately held multiple service provider with more than 17 years of experience in IT, science and engineering sectors. Rangam provides a wide range of technical and non-technical staffing and consulting services to support information processing, ERP/CRM, scientific research, records management, network ,monitoring, data recovery, and environmental, health and telecommunications support services. Rangam has a proven track record of successfully delivering mission critical IT consulting, support and recruiting services to various government and Fortune 500 clients.
Rangam specializes in staff augmentation services for IT and non-IT categories. It has been serving large pharmaceutical and healthcare clients as well telecommunication and energy sectors. RCI, together with its sister concern WebTeam Corporation, has joined hands with leading industry experts and professionals from healthcare and education sectors to develop mobile applications for special needs education.
About New Jersey Institute of Technology
New Jersey Institute of Technology (NJIT), Home of the Highlanders, is among the top 200 research universities and among the top 10 technological institutes in the United States.
Developing tomorrow's leaders has always been NJIT's primary area of focus. The IDS (Interdisciplinary Design Studio) Program under the aegis of the Albert Dorman Honors College creates opportunities for honors students to research and design innovative technological solutions to various social issues, and then identify a feasible market to implement the solutions.
About The Think Cloud
Based in New York, The Think Cloud is a branding and marketing strategy firm that produces ground breaking brand strategies, product designs and marketing programs for a diverse range of businesses to deliver tangible results. Through their collaborative approach they want to create an emotional experience that resonates with a regional and global customer base while having sound and sustainable business qualities. They identify, create and deliver new customer value in the marketplace through innovation combined with a robust process.
About Mr Brian Kiernan
Mr Brian Kiernan, retired Executive VP and Chief Scientist of InterDigital Communications, LLC and a 1970 NJIT BSSE graduate, played a major role in building and setting up the world's first commercial digital mobile telephone system and remained involved in digital mobile radio throughout his career, primarily by helping shape various digital cellular standards.
Mr Kiernan's association with NJIT is in the capacity of a charter member of the IDS External Advisory Board. His decision to sponsor the InterDisciplinary Design Studio program is grounded on the philosophy that for honors students willing to develop a project from the scratch, hands-on experience is far more essential than theoretical insights.