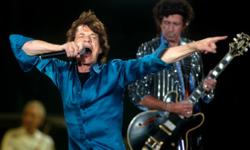 Germantown, Wisconsin (PRWEB) April 15, 2013
QueenBeeTickets.com has announced that its Rolling Stones tickets on sale for shows in Boston, Philadelphia, Los Angeles and Anaheim, will be sold at discounted prices today. These shows comprise part of the rock band's 50 & Counting Tour, and fans are expected to pick up these discounted Rolling Stones tickets at impressive rates. Fans have already purchased 2013 Rolling Stones tickets for other shows on the tour in high numbers. The group started the tour with concerts in Paris, London and New York last year before kicking it off in earnest with the Los Angeles concert on May 2.
The 50 & Counting Tour is a celebration of the 50th anniversary of the band. The first time there were Rolling Stones tickets on sale was 50 years ago for the 1963 British Tour that lasted a little more than a month. The first Rolling Stones concert to take place on American soil occurred on June 5, 1964. That show took place at Swing Auditorium in San Bernardino, Calif. The group's initial concerts to take place in the Northeast occurred later that month as two shows on this tour were held in New York, and two occurred in Pennsylvania.
Those located in Southern California looking for discounted Rolling Stones tickets have two concerts to choose from. The May 2 show will take place at Staples Center, and the May 15 concert will be at the Honda Center in nearby Anaheim. Discounted Rolling Stones tickets are also available for the final two shows of the North American leg of the tour. These will take place on June 12 and 18 at Boston's TD Garden and Philadelphia's Wells Fargo Center, respectively. The band will then continue the tour in Europe.
There are eight other concerts scheduled on the tour in the United States and Canada, including a concert in Toronto on May 25. Canadian fans of the band have already been picking up 2013 Rolling Stones tickets in high numbers for the Toronto show. Rolling Stones tickets on sale have also been in such high demand in Chicago that the band will be performing at the United Center three times, on May 28, 31 and June 3. There are also California shows taking place in Oakland (May 5) and San Jose (May 8) for those in the Bay Area looking for 2013 Rolling Stones tickets.
Many of those who will purchase discounted Rolling Stones tickets from QueenBeeTickets.com have enjoyed listening to songs off of "GRRR!," a compilation album the band put out in November that features many of the classics as well as two new songs: "One More Shot" and "Doom and Gloom." Those holding 2013 Rolling Stones tickets will enjoy live renditions of these two songs as well as of several others. That album impressively peaked in the 19th spot on the Billboard 200 and in the No. 3 slot on the UK Albums Chart.