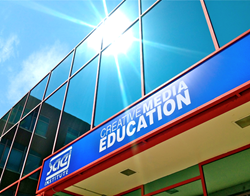 SAE alumni include award winners and dynamic industry leaders who are always on the lookout for new talent to hire. Title IV funding will allow eligible Chicago students to connect with these top pros when they're ready to begin their careers.
Chicago, IL (PRWEB) December 16, 2013
The Chicago campus of SAE Institute, a creative media arts college with schools across America, has been approved by the U.S. Department of Education to accept Title IV federal funding to help pay for the tuition of prospective students.
"Making Title IV federal funds available to our eligible incoming students gives them the opportunity to enjoy a more affordable college education," says James Thomas, Campus Director of SAE Chicago. "With Title IV, eligible students who wish to attend SAE here in Chicago can now leverage government loans and grants to help pay for our Audio Technology and Music Business degree and diploma programs so they can prepare for exciting careers in those areas."
Title IV of the Higher Education Act of 1965 provides grants, loans and work-study funds from the federal government to eligible students enrolled in college or career school. Title IV funding is available to prospective students at SAE's six other campuses across the U.S. in New York, Atlanta, Miami, Los Angeles, San Francisco, and Nashville.
"Title IV funds will not only provide students with access to SAE Chicago's excellent education so they can gain valuable job-ready skills, it will also provide them with access to our incredible international network of alumni upon graduation," says Thomas. "Our alumni include Grammy-winners, Oscar-winners, and dynamic industry leaders who are always on the lookout for new talent to develop and hire. Being able to accept Title IV funding will allow many more eligible Chicago students to connect with these prominent professionals when they're ready to begin their careers."