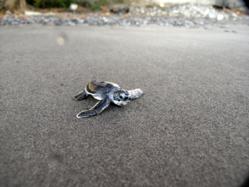 Witnessing a giant sea turtle nest or hatchlings smaller than a baby's footprint scurry across the sand are vacation memories that are truly unforgettable
Rosalie, Dominica (PRWEB) April 11, 2013
Under the cloak of night, an 800-pound Leatherback sea turtle crawls ashore on Dominica and completes her several thousand mile journey to nest. Her arrival to the protected black sand beach of Rosalie Bay Resort signals the start of the 2013 sea turtle nesting season and signifies hope for future generations of the endangered species.
Each year hundreds of endangered sea turtles, including Green, Hawksbill and the giant Leatherback, make the pilgrimage to Rosalie Bay. Nesting season, which lasts through October, is always an exciting time to visit the eco-resort. Witnessing a giant turtle nest or hatchlings smaller than a baby's footprint scurry across the sand are vacation memories that are truly unforgettable.
Located on the Atlantic Ocean, the eco-resort founded the sea turtle conservation efforts on Dominica more than 10 years ago and offers a safe, protected nesting ground for the endangered species.
Guests of Rosalie Bay Resort are invited to participate in the efforts by helping patrol the beach to protect nesting turtles, aid researchers in collecting data or relocating nests that are too close to the ocean to the turtle hatchery, or being "on call" for when hatchlings make their way out to sea.
Sea turtles continue to arrive at Rosalie Bay Resort and in approximately two months, the first hatchlings from that giant Leatherback turtle will emerge for their journey out to sea.
For your chance to witness this amazing sight and take part in the conservation efforts, plan a vacation to Rosalie Bay Resort on Dominica.
For reservations, call toll-free to (877) 732-2864 or speak to a travel agent.
For more information, visit http://www.rosaliebay.com.
About Rosalie Bay Resort, Dominica
Rosalie Bay is an eco-boutique and wellness resort nestled in the foothills of the Morne Trois Pitons where the Rosalie River meets the black sand beaches of the Atlantic Ocean. Rosalie Bay is a pioneer in its environmental efforts with the largest wind turbine in the region and founding Dominica's sea turtle conservation program. The hand-built sanctuary seamlessly blends into its 22-acre surroundings with 28 spacious rooms and suites, waterfront spa, wellness program and locally sourced cuisine. Stunning natural beauty and modern touches work in perfect harmony to create a vacation that is simply magical.