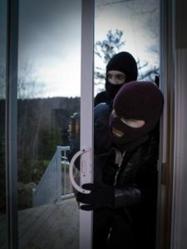 Sliding glass doors are one of the first places and entruder would look to break-in. It's important to know how to properly secure this threat.
Reston, VA (PRWEB) January 18, 2013
Many homes and condominiums have sliding glass doors, and while they can be a great architectural feature, they can often cause homeowners and renters anxiety, because they are a point of weakness that many home intruders can take advantage of during a break-in.
There are a number of reasons sliding doors are problematic, including the fact that many homeowners leave them open during warm-weather months or use them as an entry point for pets. They are also often located at the rear of a home, which means they are not visible from the street, making them a prime target for home invaders. In addition, sliding doors are often secured with a latch, which can be popped open with a crowbar. Sliding glass doors are particularly easy for burglars to break through and enter into a home.
The home security experts at Alarm System Report, a website dedicated to providing alarm system reviews, have put together a brief list of tips homeowners and renters can take to deter burglars from taking advantage of sliding doors.
1. An alarm system should be equipped to sound if a sliding door is opened or broken, when the alarm is activated. It's a good idea to compare alarm systems to see which will best meet your needs, including the protection of your sliding doors. Work with your security representative to ensure any sliding doors in your home are adequately equipped.
2. Placing a sticker, sign or decal stating your home has an alarm near a sliding door is a good way to deter burglars and intruders. Studies have shown that markers or indications that your home has an alarm system are one of the best ways to prevent a break-in.
3. Block your sliding doors from moving horizontally. The easiest way to do this is to place a wooden or metal bar in a position to block the track.
4. Install a secondary lock on your sliding door. Since many sliding doors are secured only by a latch, there are a number of options you can take advantage of to give your door more security. Examples include a slide bolt, a security latch, an anti-slide block or a metal hinge bar. These items will likely be available at your local hardware store.
5. Even if you have a block to prevent your sliding glass doors from sliding horizontally, burglars can lift the doors off their tracks in some instances. To prevent this from happening, always ensure your rollers are in good working condition, and to take further steps to avoid doors from being lifted, you can install screws at the top of your sliding doorframe.
6. Apply a security film over the outside of your sliding door to keep it intact, if it does become broken. Window films are typically available at local glass installers.
About the Company
AlarmSystemReport.com is a website providing unbiased reviews of alarm systems, including the best DIY home alarm systems and Front Point Security System Reviews.