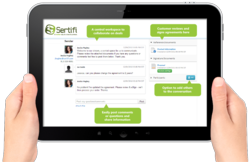 Those that have enabled Deal.Stream have found the new functionality to further reduce the time it takes to get agreements signed by more than 20%!
Chicago (PRWEB) February 25, 2013
Sertifi, a leader in software that automates the sales process, introduces Deal.Stream, a social collaboration feature for organizations to better connect with customers, collaborate on deals, and close business faster with electronic signatures.
Electronic signatures speed the contract process, increase rep productivity, and reduce high costs of paper, printing, faxing, and overnighting contracts. Yet, Sertifi discovered that sales teams need a collaboration feature to help eliminate frustrating back-and-forth email exchanges and complexity of deals involving many people.
Sertifi is the only Closing Platform that offers collaboration features enabling reps and customers to easily reach agreements and then quickly execute the deals with electronic signatures. Watch a two-minute video demo of the tool showcasing the brand-new collaboration feature.
"Customers including Careerbuilder, CBS, and Pitney Bowes have been asking us to build a platform that can better facilitate and accelerate negotiation activities during the last mile of the contract process," said John Stojka, co-founder of Sertifi. "Those that have enabled Deal.Stream have found the new functionality to further reduce the time it takes to get agreements signed by more than 20%."
Companies that use Deal.Stream report increased customer satisfaction and shortened sales cycles. James Godwin, director of operations at Excell Print and Promotions, states the feature streamlines the sales process by better tracking deal conversations and uploading documents within the stream.
"The aspect of Deal.Stream that really glues everything together for us is the collaboration functionality. It's a standard go-to area of record for messages between clients and Service Reps which saves Service Managers weekly headaches. They no longer have to remind Service Reps to log their client activity in our CRM," said Godwin. "The 'Attach File' feature inside the stream, combined with automatic notifications of any posts, including attachments is excellent. For small artwork files, Service Reps no longer have to provide separate FTP links for clients to upload artwork or other documents."
Companies can access Sertifi through its leading eSignature API, pre-built Salesforce and Microsoft Dynamics CRM integrations, and Web Portal.
The Closing Platform offers reps and customers an online space to negotiate and close deals in real time. Customers are presented with all necessary documents for review along with the ability to sign electronically. The real-time feed allows both parties to communicate by posting questions or comments. Either party can invite others to join the conversation. A complete audit trail of the document (when it was sent, opened, and signed) is available.
Sertifi benefits include:

Engaging sender profile with rep's contact information and photo
Space to better communicate and track deal conversations
Efficient way to quickly respond to customer questions or comments
Complete transparency into deal status regardless of who initiated it
Option to add essential team members to join conversation
Easy solution for redlining contracts
And more
The Closing Platform can be used by groups other than sales such as staffing. Any person sending agreements for signature can benefit from the electronic signature solution.
Sertifi offers a free Sertifi account which includes 5 streams (eSignature sends) per month.
Contact Information
If interested in Sertifi's solution, please call 1.866.983.8877 or contact sales.
About Sertifi
Sertifi provides business tools that speed the last mile in the sales process. Sertifi is the industry's most trusted Web service API, which enables integration into existing systems, or pre-built connectors into leading platforms such as Salesforce and Microsoft Dynamics CRM. Sertifi is trusted by leading companies including Cricket Communications, CareerBuilder, Washington Post, Tribune Company, and WildBlue.