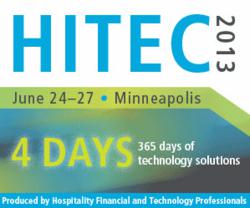 Our employees gain an additional one to two hours per week to close deals and generate more revenue for the company!
Chicago, IL (PRWEB) June 12, 2013
Sertifi helps hospitality companies automate business processes while delivering exceptional customer service and reducing operating costs with eSignatures.
Leading companies including Newmarkets International, Inc., PAR Springer-Miller Systems, and B.F. Saul Company trust Sertifi to expedite the signing process.
"Since using Sertifi, our employees gain an additional one to two hours per week to close deals and generate more revenue for the company," said Gregory Coolidge, Director of Enterprise Applications at PAR Springer-Miller Systems.
Catering agreements, event and sales orders, banquet event orders (BEOs), and other business agreements are signed faster with Sertifi.
Doug Rae, director of sales, and Jessica Hughey, marketing manager, will represent Sertifi at HITEC and demo the electronic signature solution at booth #1148 on the expo floor.
Sertifi invites all attendees to stop by the booth and drop off a business card as entry into raffle drawings for iPod Nano prizes.
Contact Sertifi
For all sales inquiries, call 1.866.983.8877 or visit http://www.sertifi.com
About Sertifi
Sertifi provides eSignatures and Closing Automation Solutions that help organizations close deals faster. Sertifi enables sales teams to quickly reach agreements with customers and then execute the deals with electronic signatures. Customers can access Sertifi through its leading eSignature API, pre-built Salesforce and Microsoft Dynamics CRM integrations, and Web Portal. Leading organizations around the world including Pitney Bowes, CareerBuilder, U.S. Air Force, and Cricket Communications.
About HITEC
The Hospitality Industry Technology Exposition and Conference (HITEC) is a service of Hospitality Financial and Technology Professionals (HFTP). It is the world's largest hospitality technology exposition and conference and it offers attendees essential education, access to experts and hospitality technology vendors. HITEC also provides a platform to network with top leaders in the industry as well as the resources to find cost-effective ways to improve company bottom lines. For more information, visit http://www.hftp.org.