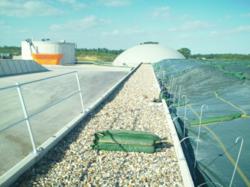 Over a period of consultation, the Bock handrail system has been developed to allow easy access to the covering system, whilst retaining a safe and secure working platform
Earls Colne, Essex (PRWEB UK) 14 May 2013
The number of deaths and injuries recorded in agriculture has remained high, with the HSE reporting that in the year to March 2012 there was a 10% increase in fatalities, and a 9% increase in recorded accidents. This is despite the HSE estimating that just one in five injuries is officially reported.
With 16% of fatalities in agriculture involving fall from heights, there is no doubt that challenging working conditions are responsible in some way – but how many of these accidents are avoidable?
With this in mind, the design team at Bock UK have created a bespoke handrail system for their silage clamps, aimed at protecting silage teams working on and accessing the clamp.
Over a period of consultation, the Bock handrail system has been developed to allow easy access to the silage clamp covering system, whilst retaining a safe and secure working platform. The handrail has been successfully trialled at Symonds Farm, Great Saxham, where a series of tests and modifications took place.
Jeremy Milbank, Technical Consultant at Bock UK said: 'Surprisingly, up until now, there hasn't been a dedicated handrail system available for these silage clamps. Although the unique design of the Bock clamp provides enhanced safety for operatives handling the covers and gravel bags by way of a working platform, adding a handrail will help to eliminate the risk of falls from height; which is especially pertinent when the clamp is partially full. We have taken in to account that farmers often have to access their silage in high winds and wet weather during the winter months and need a secure working area to ensure their safety.'
The Bock handrail system has been designed with offset posts aligned to fixing holes to enable it to be used with the Bock SiloClip© to make securing silage covers easy and safe for the silaging teams, and will provide long-term ease of access when accessing silage. The Bock handrail is offered as a complete kit, including fixings. Contact Bock UK for more information.
For more information visit the Bock UK website or telephone 01787 220560
*HSE information http://www.hse.gov.uk/agriculture/hsagriculture.htm
Editor's Notes:
Bock UK systems can produce 30% more energy from silage compared to normal clamps and covers
Bock UK can provides an enhanced working environment for the silaging team
Slanted silo walls and cambering allow 35% enlargement
The systems provide reduced temperature fluctuations for optimum storage conditions
Bock UK systems ensure easy access to dry, useable feed in any conditions
Bock UK offer one complete concept from construction to covers
Bock UK provide bespoke solutions for small 'on farm' silaging to complex biogas requirements
Bock UK are experts in low maintenance, bespoke silage clamp solutions
Bock UK has 90 years' experience in silage clamp solutions